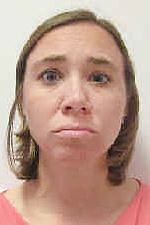 Fazekas
TIFFIN — A veteran Carey High School teacher and Tiffin Columbian girls' basketball coach was sentenced Tuesday to 17 months in prison after admitting she'd had a sexual relationship with a 17-year-old student.
Katie Fazekas, 32, of Tiffin pleaded guilty before Seneca County Common Pleas Judge Steve Shuff to attempted sexual battery, a fourth-degree felony, for her relationship with a female Carey High student.
Seneca County Prosecutor Derek DeVine said the criminal activity occurred during the summer of 2013 and into the 2013-14 school year at Fazekas' home in Tiffin.
"The relationship between a teacher and student is of the utmost importance to our community," Mr. DeVine said in a statement. "Ms. Fazekas violated the trust that our community placed with her to protect children."
In addition to the prison sentence, Fazekas surrendered her state teaching license, and Judge Shuff classified her as a sex offender who must register her address with the sheriff in her county of residence for the rest of her life.
Mr. DeVine said Fazekas agreed to plead guilty to the charge, which was presented in a bill of information filed Tuesday, rather than have her case presented to a Seneca County grand jury.
Fazekas had been a health and physical education teacher at Carey High for nearly 10 years, said Carey Superintendent Michael Wank. She also had been the girls' basketball coach at Tiffin Columbian for two years, but resigned from both jobs when the allegations surfaced in March, officials said.
Mr. Wank said in a statement that school officials investigated the allegation against Fazekas and reported it to law enforcement authorities immediately after it came to their attention.
"Our paramount concern at all times as a public school district is the safety and well being of our students," he said. "That a former employee inappropriately preyed upon a student is both sad and tragic."
The superintendent said Fazekas resigned as soon as she was confronted with the allegation. The school board accepted her resignation in April.
"While we are shocked and saddened by this person's conduct, we are gratified that this matter is being resolved appropriately under our legal system and that no student is in ongoing jeopardy," Mr. Wank said.
After Tuesday's court appearance, Fazekas was taken to the Seneca County jail to await transfer to prison. Jay Feldstein, a Toledo attorney who represented her, said Fazekas will be eligible to ask the court for early release after she serves 30 days. He said she likely will file such a motion but did not know when that would be.
Mr. DeVine said his office agreed to remain silent on the question of judicial release.
"It's just an unfortunate situation from all parties' perspectives," Mr. Feldstein said. "My client will pay a very significant price for the alleged misdoings."
Contact Jennifer Feehan at: jfeehan@theblade.com or 419-213-2134.
Guidelines: Please keep your comments smart and civil. Don't attack other readers personally, and keep your language decent. Comments that violate these standards, or our privacy statement or visitor's agreement, are subject to being removed and commenters are subject to being banned. To post comments, you must be a registered user on toledoblade.com. To find out more, please visit the FAQ.