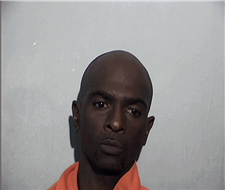 Darden
A Toledo man accused of beating, raping, and holding his former girlfriend against her will was found guilty Wednesday of rape, abduction, and domestic violence.
Christopher D. Darden, 38, of the 3200 block of Beaumont Drive was immediately sentenced by Lucas County Common Pleas Judge Michael Goulding to the maximum term of 17 years in prison. The judge also classified him as a sex offender who must register his address with the county sheriff every 90 days for the rest of his life.
Though Darden insisted before he was sentenced that he was "not aggressive" and never raped anyone, Judge Goulding said the evidence showed he was a woman beater and a rapist.
"The jury had two stories before it — yours and the victim's — and believed the victim's. However, part of your story is true. You testified that you're a hustler, a fast-talking one at that," Judge Goulding said. "In light of these verdicts, you have been proven to have terrorized and enslaved [the victim.]"
The jury of nine men and three women deliberated just two hours before returning its verdicts on the third day of Darden's trial.
Michael Bahner, an assistant county prosecutor, said the victim met Darden when she began buying marijuana from him but that at some point Darden wouldn't leave her home and wouldn't leave her alone.
"He took whatever he wanted from her — physically, mentally," Mr. Bahner said.
Defense attorney Sara Roller argued that the victim was free to leave the house, free to call or text from her cell phone, though the woman said on the witness stand that she didn't call police because she was "scared to death."
Police were called to her Woodland Avenue home by a third party twice on June 13 — the first time no one came to the door, the second time officers kicked in the door, found the victim, and took her to the hospital.
The jury began deliberating about 11 a.m. but was ordered by Judge Goulding to "start from scratch" at 1:30 p.m. after one of the jurors had to leave because of a family medical emergency and the alternate juror was brought back to join the panel.
Contact Jennifer Feehan at jfeehan@theblade.com or 419-213-2134.
Guidelines: Please keep your comments smart and civil. Don't attack other readers personally, and keep your language decent. Comments that violate these standards, or our privacy statement or visitor's agreement, are subject to being removed and commenters are subject to being banned. To post comments, you must be a registered user on toledoblade.com. To find out more, please visit the FAQ.