NAPOLEON — A Henry County jeweler and a store manager have sued the City of Napoleon, saying the manager's constitutional rights were violated when he was wrongfully arrested and criminally prosecuted.
In a civil complaint filed this month, Jascha Chiaverini and Chiaverini, Inc.— which owns and operates the Diamond and Gold Outlet, located at 125 E. Maumee Ave. — named the city, former Napoleon police Chief Robert Weitzel, police officers Nicholas Evanoff, David Steward, and police detective Jamie Mendez as defendants involved in the arrest and prosecution of Chiaverini in late 2016 and 2017.
Henry County Courthouse. A business has filed suit against Napoleon, former Napoleon police Chief Robert Weitzel, police officers Nicholas Evanoff, David Steward, and police detective Jamie Mendez.
The Blade
Enlarge | Buy This Image
Chiaverini's complaint, filed in Henry County Common Pleas Court, stems from a series of incidents that began in November, 2016, when a man named Brent T. Burns sold a men's ring and diamond earring to the pawn shop for $45, court records state. The shop intended to scrap the ring and earring for about $56, but later that month David and Christina Hill, also both defendants in the lawsuit, contacted the shop and reported the items stolen.
Mr. Hill told Chiaverini he had not yet reported the ring stolen, and Chiaverini told him to file a police report, the complaint states. Mr. Hill would not, so Chiaverini contacted police.
Officers Evanoff and Steward responded, and started an investigation that — according to a written statement from Chiaverini, Inc. — ultimately resulted in the city and its officers "wrongfully and maliciously" arresting Chiaverini, and violating his rights and the rights of the shop, among other misdeeds.
The suit seeks $3 million.
Tammy Fein, assistant to the city law director, said city officials "wouldn't be able to comment on a pending litigation."
After the initial back-and-fourth between Chiaverini and the Hills couple, Officer Steward "and purportedly Chief Weitzel executed a letter to the business, stating their belief that the ring and the earring were stolen items." In the same letter, according to the complaint, they requested the business "hold this item... as evidence of the crime of theft."
"On or about" the same day, Ms. Hill came to the business and demanded that it return the items in question.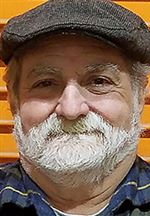 Jascha Chiaverini is the operator of the Diamond and Gold Outlet.
When Chiaverini refused, citing the police letter, Officer Evanoff and Officer Steward went to the business, and said that if the business agreed to return the items to the Hills, it would be treated as a "co-victim," according to the civil complaint.
Chiaverini told the officers he needed to consult an attorney. They wouldn't wait and left, the civil complaint said.
On Dec. 2, 2016, the complaint states, Napoleon police officers executed an "unlawful search warrant" at the business and "seized and removed not only the ring and earring in question, but also documents, computers, and other jewelry."
According to the civil complaint, Officer Evanoff filed a criminal complaint the same day, charging Chiaverini with money laundering, receiving stolen property, and violation of licenses requirements. On Dec, 8, Officer Evanoff filed an additional criminal complaint, charging Chiaverini with a second count of money laundering.
The complaint suggests Officer Evanoff had a conflict because he "is, or was, a licensed pawnbroker, or is, or was, a [principal] in a business entity that was a licensed pawnbroker" and states that he violated the police department's "policy and/or practice that it did not have jurisdiction" to investigate and file precious metals dealer complaints.
Court records state Chiaverini was incarcerated at the Corrections Center for Northwest Ohio near Stryker for four days without bail. The complaint states he was "strip-searched, deprived of his liberty, and later injured," during his time in incarceration.
Charges against Chiaverini were later dropped.
"I am very, very hurt, very very upset," Chiaverini said. "There is no amount of money that can give me back the dignity they've taken away from me."
Chief Weitzel retired in June, 2017, according to Lt. Ed Legg, of Napoleon city police.
Lieutenant Legg, who took The Blade phone call to Napoleon police Friday, referred all inquiries to the city attorney Billy Harmon, who could not be reached for comment. Chief Dave Mack also could not be reached for comment.
Contact Mike Sigov at sigov@theblade.com, 419-724-6089, or on Twitter @mikesigovblade.
Guidelines: Please keep your comments smart and civil. Don't attack other readers personally, and keep your language decent. Comments that violate these standards, or our privacy statement or visitor's agreement, are subject to being removed and commenters are subject to being banned. To post comments, you must be a registered user on toledoblade.com. To find out more, please visit the FAQ.