Relatives of the Michigan man fatally struck with a tossed sandbag were irate Friday as a Lucas County Juvenile Court judge ordered the four teenagers to a local treatment center instead of a state prison.
Judge Denise Navarre Cubbon called the actions senseless, irresponsible, and impulsive and said the defendants' ages — they were either 13 or 14 at the time — were not an excuse for their crimes.
"This was not a prank. Throwing things off an overpass is not a prank," the judge said.
Still, she said the Lucas County Youth Treatment Center in downtown Toledo is the best option for rehabilitation and to make the teenagers productive members of society. It has an average stay of eight months.
VIDEO: Toledo teens sentenced for dropping sandbag
RELATED: Prosecutor: Police had right to stop youths in sandbag case | Fourth teen pleads guilty in sandbag killing
Lillian Diallo, a Detroit-based attorney for the family of Marquise Byrd, 22, who was killed in the Dec. 19 incident, called the sentences outrageous. Family and friends of Mr. Byrd, who were visibly upset, walked out of the courtroom before Judge Cubbon was finished sentencing Pedro Salinas, Sean Carter, William Parker II, and Demetrius Wimberly.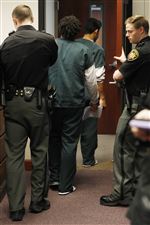 The four juveniles involved in the death of Marquise Byrd are led out of the courtroom following their sentencing Friday, April 6, 2018, by Lucas County Juvenile Court Judge Denise Navarre Cubbon in downtown Toledo. Demetrius Wimberly, William Parker II, Sean Carter, and Pedro Salinas were sentenced to the Lucas County Youth Treatment Center for their roles in the December 19, 2017, incident that caused fatal injury to Marquise Byrd.
The Blade/Katie Rausch
Enlarge | Buy This Image
"What madness is this? Where we don't have to take responsibility for whatever age we are? What is this?" Ms. Diallo asked, following the hearing.
The teens — Salinas, 13, Carter, 14, Parker, 15, and Wimberly, 14 — all previously pleaded guilty for their involvement in dropping a sandbag from the Indiana Avenue overpass onto I-75. The sandbag struck a passing car, killing a passenger, Mr. Byrd.
The attorney said Mr. Byrd will never be able to see his 2-year-old son, his fiancee, his brother, mother, or other relatives again — while the four boys could soon go home to be with their families.
"The way we were talking to the prosecutor, I knew we weren't going to get justice," said Marcus Byrd, who is Mr. Byrd's brother.
Lori Olender, deputy chief of the county's juvenile division, said the "absolutely senseless act" ripped a family apart.
"Whether the crime is called involuntary manslaughter or murder, it all comes down to the same thing, your Honor: an innocent man has lost his life," Ms. Olender said. "No matter how much time is given in this case, four juveniles will eventually be reunited with their family, but Marquise Byrd will not."
She pleaded with the judge to take the 30 victim-impact statements into consideration and to "please send a message to the community and to the four boys" so the incident would not be treated like a "childish prank but for the homicide that it is."
Ms. Olender did not provide a sentencing recommendation to the judge.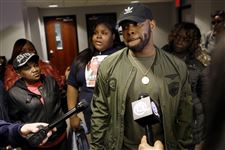 Marcus Byrd, center, speaks after the four juveniles involved in the death of his brother Marquise Byrd were sentenced.
The Blade/Katie Rausch
Enlarge | Buy This Image
Patricia Wilkes, Mr. Byrd's mother, spoke prior to the boys' sentencing. She said she had no expectations for a sentence because there was nothing that was going to bring her son — who played an integral part in her life — back.
"This incident has disrupted my entire life, my entire family," she said. "Now, my life is in shambles, for one, every day I wake up and I go to sleep thinking about my son lying there in that hospital bed."
The boys each entered the courtroom with a piece of paper in hand — prepared statements to say how sorry they were. All of them, along someone from each of their families, directly apologized to members of the Byrd family, many of whom sat in the jury box with boxes of tissues on their laps.
"I am sincerely sorry for the loss of Marquise Byrd. I was at the wrong place at the wrong time, doing the wrong thing," Salinas said. "I hope you can forgive me. I hope you can find it in your heart to forgive me. I'm only 14."
Judge Cubbon said the boys will have to put in work — with regular court hearings, changing thinking and behaviors, educational needs, and working on substance-abuse treatment, as well as family participation. They will have a follow-up hearing with the judge next month once a plan is established for them at the treatment facility.
The judge initially sentenced the boys to the Ohio Department of Youth Services, but put that sentence off in lieu of the local option. If the local treatment doesn't work, any of the boys could go to state prison.
"This can't be accomplished at the Department of Youth Services, but it can be accomplished at the Youth Treatment Center with participation and commitment from the families and the children," the judge said. "I will ensure that they successfully complete all of the programming requirements so when they return to the community, whenever that is, that their behavior changes, will be beneficial to the community, provide community safety, to ensure this tragedy or other similar tragedies never happen again."
Representatives from the probation department and the Youth Treatment Center all recommended the boys serve time at the treatment facility.
Salinas, who admitted to dropping the fatal sandbag, previously pleaded to murder, a first-degree felony; felonious assault, a second-degree felony, and a misdemeanor offense of vehicular vandalism.
The judge sentenced him to the Department of Youth Services up to age 21 for the murder charge, and one year for vehicular vandalism. That sentence was suspended and he was referred to the treatment center.
The Carter, Wimberly, and Parker youths each previously pleaded guilty to felony offenses of involuntary manslaughter and vehicular vandalism, and a misdemeanor offense of vehicular vandalism.
The judge sentenced them to three years for involuntary manslaughter and one year for vehicular vandalism, also at the Department of Youth Services. Those sentences also were suspended and they were ordered to serve time at the local treatment center.
Additionally, the judge ordered the boys each perform 30 hours of community service.
Judge Cubbon said it is her job to hold the boys accountable for their actions, keep the community safe, repair harm as best as possible, and provide rehabilitation.
"I'm not going to give anyone closure in this room," she said prior to issuing the sentence. "It's not possible for me to do that. You will never close a chapter on Marquise's life, and I know that, and everyone in this room knows that too."
Contact Allison Dunn at areamer@theblade.com, 419-724-6506, or on Twitter @AllisonDBlade.
Guidelines: Please keep your comments smart and civil. Don't attack other readers personally, and keep your language decent. Comments that violate these standards, or our privacy statement or visitor's agreement, are subject to being removed and commenters are subject to being banned. To post comments, you must be a registered user on toledoblade.com. To find out more, please visit the FAQ.