About every criminal released from prison has a tough go of it.
Nathaniel Cook, who admitted to killing three people in 1980 and 1981 and served 20 years behind bars, may have a particularly difficult adjustment.
"He's been gone for two decades," said Willie Knighten, Jr., a volunteer with the Reentry Coalition of Northwest Ohio who served time in some of the same prisons Cook has. "So much changes within one to five years, let alone 20, so for him to come out here and try to re-acclimate himself without the right tools and resources, it may just set him back up to re-offend and end up back incarcerated."
With that in mind, the Reentry Coalition is reaching out to Cook, 59. Thomas Luettke, re-entry coordinator for the Criminal Justice Coordinating Council in Toledo, said the reason is simple.
"We want to make sure our community is safe," Mr. Luettke said. "If we can make him succeed, it will ensure our community will remain safe and that he remains law-abiding. We're always there to ensure people are successful so that they don't commit crimes, they don't victimize people, which ultimately leads them back to the institution."
The coalition is made up of professionals and volunteers from public agencies, nonprofits, and faith-based organizations that provide services to criminal offenders upon their release from prison.
Lucas County Prosecutor Julia Bates said she encouraged Mr. Luettke to reach out to Cook, knowing that his release was imminent.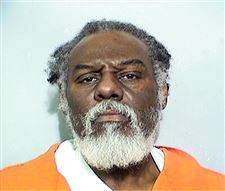 Nathaniel Cook
"If this is going to happen, we have to do everything we can to make sure that nobody gets hurt," Mrs. Bates said. "If they're willing to take this on and work with this guy, that can be nothing but good."
Under an unusual plea agreement signed in 2000 by Cook, the prosecutor's office, and now-retired Judge Charles Wittenberg, Cook and his older brother, Anthony Cook, agreed to admit to all of the homicides they committed in Lucas County. In return, Anthony would spend his life in prison; Nathaniel would be released after 20 years.
While his attorneys filed for his release after his 20-year term was up on Feb. 13, Lucas County Common Pleas Judge Linda Jennings has so far declined to grant his release. She inherited the case from Judge Wittenberg.
Cook's defense attorney Pete Rost said he is confident Cook will be released.
"He will be a member of the community. You want him to be productive, and you want him to be compliant. Why wouldn't you help him?" Mr. Rost asked. "Ultimately, you want the community to be safe and, if he's compliant, it's assurance for everyone that things will be fine."
He called the Reentry Coalition "a safety valve for the community."
The coalition offers a "Going Home to Stay" program the first Wednesday of every month where released offenders can access services and referrals, but Mr. Luettke said it lacks the resources to reach out to every individual inmate as it's doing for Cook.
Mr. Luettke has so far met with Cook three times at the Lucas County jail. They've talked about how he can get a copy of his birth certificate and Social Security card, how he can get a driver's license, look at employment training, and get a job.
He said he and volunteers from the coalition plan to attend Cook's next court hearing at 2 p.m. Thursday.
"The community has concerns — grave concerns — I think we all have concerns of him getting out," Mr. Luettke said. "According to what I've seen, he should get out. That's the agreement, and I think this being such a high-profile case, we want to make sure he does succeed to prove to the community that although this terrible past is there, he has served his time [so that when] he's out, he's abiding by any restrictions he has. He's getting a job. He's paying taxes. He's going home. He's minding his own business."
Contact Jennifer Feehan at jfeehan@theblade.com or 419-213-2134.
Guidelines: Please keep your comments smart and civil. Don't attack other readers personally, and keep your language decent. Comments that violate these standards, or our privacy statement or visitor's agreement, are subject to being removed and commenters are subject to being banned. To post comments, you must be a registered user on toledoblade.com. To find out more, please visit the FAQ.