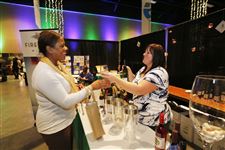 Christine Palmer of Toledo, left, gets a sample from Julie Hamann of Firelands Winery. Offerings included Ugly Sweater, which has hints of cinnamon and clove and can be served hot or cold.
THE BLADE/JETTA FRASER
Enlarge | Buy This Image
Kathy and Rob Pawloski love visiting wineries on their weekend travels through Ohio and Michigan.
The Toledo couple stayed in their hometown Saturday but still sampled wines from some of the 14 Ohio wineries at the Glass City Wine Festival.
The sold-out event, now in its second year, drew nearly 2,000 people to downtown Toledo's SeaGate Convention Centre, where wine lovers such as the Pawloskis sipped wine and purchased bottles of their favorites.
"People say that California wines are the best, but I don't necessarily agree that that's true, because I think you can find great wines here in Ohio," Ms. Pawloski said.
Mr. Pawloski estimated they had visited about 70 percent of the wineries at the festival. "The ones that we haven't we'll probably go [to] shortly," he said.
Tickets, which ranged in price from $25 to $40, sold out days before doors opened, said Tamara Rost, an event organizer and director of operations for WTVG-TV, Channel 13. The station organized the event.
In addition to wineries, 39 other vendors set up tables, offering gourmet cheese, cupcakes, glassware, and more.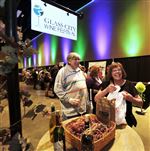 Rob and Kathy Pawloski of Toledo sample wine from some of the 14 wineries from Ohio at the second — and sold-out — Glass City Wine Festival at the SeaGate Centre downtown.
THE BLADE/JETTA FRASER
Enlarge | Buy This Image
A darkened venue decorated with lamp posts and greenery greeted festival visitors, many of whom wore slings around their necks to secure their wine glasses. Ms. Rost said organizers paid more attention this year to ambience.
She said she thinks the event's timing at the end of a frigid and snowy winter helped its success.
"Everybody is tired of Mother Nature pelting us with more snow," Ms. Rost said.
For some, the festival was a fun reprieve from forecasts warning of more snow.
"We needed something right now before the storm comes," said Christine Palmer of Toledo, who said she was delighted to find a "delicious" red wine from Chateau Tebeau Winery in Helena, Ohio.
Firelands Winery in Sandusky brought a number of wines for festival-goers to sample, including its spice wine Ugly Sweater. It has hints of cinnamon and clove and can be served warm or cold — "something a little bit different," said the winery's office manager Vicki Rogers, who helped run Firelands' booth.
Lee Klingshirn, winemaker and owner of Klingshirn Wines in Avon Lake, Ohio, returned to Toledo because he was pleased with the turnout in 2013. He said he views the festival as a way to promote tourism to the state's vineyards and wineries.
More people have been drawn to local wines, he said, citing the trend to eat food and drink beverages grown or produced close to home.
The festival's "foodie crowd" prompted Kelly Heuss, owner of Puttin' on the Glitz, to set up a table so visitors could sample her specialty olive oils and balsamic vinegars. She wanted to promote her shop to those who might not visit its Perrysburg location, and she said many people stopped for samples in the festival's first hour.
The Ohio emphasis and the variety of wines impressed Laurie Huber of Sylvania, who attended with her daughter and mother-in-law. She also went to the inaugural festival.
"We loved it. That's why we came back," she said.
Next year's Glass City Wine Festival already has been set for March 7, 2015.
Contact Vanessa McCray at: vmccray@theblade.com or 419-724-6065, or on Twitter @vanmccray.
Guidelines: Please keep your comments smart and civil. Don't attack other readers personally, and keep your language decent. Comments that violate these standards, or our privacy statement or visitor's agreement, are subject to being removed and commenters are subject to being banned. To post comments, you must be a registered user on toledoblade.com. To find out more, please visit the FAQ.