ABOUT THIS PROJECT
The Blade's special project — Mideast in the Midwest — documents the people in the Toledo area who trace their heritage to the Greater Middle East, a region extending from Morocco in the west to Afghanistan in the east, Turkey in the north to Yemen and the Horn of Africa in the south.
This project is in large part a census, but it is also an online oral history, and at its heart is a multitude of rich stories about people who trace their history in Toledo not only in years, but in decades.
The purpose of the survey, which can be found online at mideastmidwest.com, is to attain the best possible estimate of the size and key characteristics of the local Middle Eastern and North African community. The survey will also be distributed to local organizations and religious institutions.
One in an occasional series
Abraham Sallock sits with Manira Saide-Sallock, holding her father's rababa, a stringed instrument, in their Oregon home. Ms. Saide-Sallock's father, Mohammed, lived in the Little Syria district in the 1940s.
THE BLADE/LORI KING
Enlarge | Buy This Image
Manira Saide-Sallock, 74, remembers when her father, Mohammed Saide, and Shadid Ya'qub, the father of the late actor Danny Thomas, would sit in their backyard in Toledo's Vistula neighborhood and sing the Aataba, a melancholy, improvised ode sung in Arabic.
Her father played the rababa, a wooden stringed instrument, while he and Mr. Ya'qub exchanged songs.
The streets of what was known as Little Syria, in the 1940s, were lined with families from the Middle East. The Sodds. The Warrs. The Haddads.
Today, little is left of the Arab-American community that called the North Toledo neighborhood home.
With affluence came assimilation. The Arabs moved out, and into the white and Jewish neighborhoods, Mrs. Saide-Sallock said. Living adjacent to one's own countrymen, and those first and second generation Americans with similar roots, was no longer necessary.
"You want to go where the affluent areas are," said Mrs. Saide-Sallock, whose family moved to Oregon in the 1960s.
For the early Middle Eastern community, life in the United States was about blending in to survive and fighting for distinction as whites, as a way to set the foundation for their children and relatives yet to immigrate to the states.
Today, the narrative has shifted. Many Arabs, Middle Easterners, and North Africans are now making the argument for the exact opposite distinction. That is, they are not white, and that race is not an accurate classifier for them.
Maya Berry, executive director of the Washington-based Arab American Institute, said she has seen a rise in identification with the Arab world among Arab-Americans who came of age post-9/​11. Many in this generation might not have ever lived in or visited the Arab world, but view themselves as Arabs, Mrs. Berry said.
"Some of them see themselves as Arab nationalists," she said. "It's partly an experience of feeling your identity is being treated as less or as suspect, and you cling and defend."
BE COUNTED: Take The Blade's anonymous Mideast in the Midwest survey
MORE STORIES: An oral history of the Toledo area's Middle Eastern population
Manira Saide-Sallock, 5, front left, stands with her father, Mohammed Saide, her mother, Hafiza, and sister, Salwah Igram, in the 1940s for a family portrait.
What to check?
CTY sallock4p 03/04/2014 The Blade/Lori King Manira Saide-Sallock's father's Rababa instrument.
The Blade/Lori King
Enlarge | Buy This Image
For Shayan Parsai, 23, viewing himself as white is out of the question. The Ottawa Hills resident said he sees himself as Persian- American when he's with whites or other Persians, and Middle Eastern-American when he's with non-Persian friends from other parts of the Middle East.
Yet Mr. Parsai said he still checks off "white" when asked to identify his race on government documents. It's the most accurate answer he can provide, he said, because the race and ethnic classifications don't account for Persians and Middle Easterners. Mr. Parsai said he doesn't feel assimilated into white society, and that he'd be more comfortable checking a box for a "Middle Eastern" category, instead.
"I think it would be good to make the differentiation because that differentiation exists on a daily basis," Mr. Parsai said.
Some of those differences include culture, religion, food, and a shared immigrant experience, Mr. Parsai said.
Mr. Parsai is not alone. Arabs, North Africans, Persians, Turks, and other ethnic groups from the Middle East and North Africa find it difficult deciding what to check on the U.S. Census and other government documents. The Office of Budget and Management's 1997 standards on race classifications state that people of European, Middle Eastern, and North African descent are considered white.
Hassan Jaber, executive director of Dearborn, Mich.-based ACCESS, has been part of a national advisory group for the Census Bureau as it designs the 2020 Census. He said most of the discussion regarding race and ethnicity has been focused on the Hispanic and Latino category, but that the Middle Eastern and North African community should see some changes by the 2020 Census. He was not specific on what those changes would entail.
Mr. Jaber said the lack of a category for Americans of Middle Eastern and North African origin has caused a significant loss in the count of these groups because there is no box for them to identify who they are.
"The question of race, the sharpness of this question, the white-black race issue left many outside the debate on race, including Arab- Americans," he said. "We're really missing on the diversity."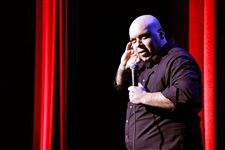 Dearborn, Mich.-based comedian Amer Zahr, 36, is producing a documentary called 'We're Not White,' in which he asks ordinary people whether they think Arabs are white. Invariably, he said, both Arabs and non-Arabs answered 'no.'
A racial history
Amer Zahr, 36, a comedian and writer based in Dearborn, Mich. said most non-Arabs and non-Middle Easterners he's spoken to while filming his documentary We're Not White have been surprised to learn that people of Arab descent are not counted in their own category and, furthermore, that the government classifies them as white.
Part of Mr. Zahr's documentary, which is scheduled for release in April, includes man-on-the-street interviews, in which he asks ordinary people a series of questions, including whether they think Arabs are white. Invariably, he said, both Arabs and non-Arabs answered "no."
"What I realized when I was talking to people, especially white people, is that white people don't think that we're white," said Mr. Zahr, who is of Palestinian descent. "So if there was ever a test of whiteness, white people don't think we're white."
So how did Arabs, North Africans, and Middle Easterners come to be legally considered white?
The simple answer: They lobbied the government and went to court to prove their whiteness.
Middle Easterners began arriving in the United States in large waves at the beginning of the 20th century, a time when the Ottoman Empire, based in modern-day Turkey, still ruled much of the region.
Between 1900 and 1929, close to 330,000 people immigrated to the United States from a region including much of the modern-day Middle East.
These newly arrived emigrants found themselves in a country with opportunities but limitations based on race. Federal naturalization laws from the 1870s to the 1920s were aimed at limiting Asian immigration to the United States, according to Helen Samhan, in her book Arabs in America: Building a New Future, which was excerpted by the Arab American Institute.
According to a different set of immigration categories established in 1899, Syrians and Palestinians were considered white, but the courts were still interpreting race based on the 1870 standards, according to Ms. Samhan, who is a former executive director of the institute.
In order to ensure they could become citizens and that they could reunite with their family from overseas, emigrants from the Middle East and the Arab world had to prove they were white.
"I think they were very practical people," Mrs. Berry said. "Making the claim that we're white meant we could not be banned. And as a result, they did what they had to do."
Beginning with a landmark federal case in 1909 in Georgia, the Arab community fought the court system and lobbied to be classified as white, a designation that eventually stuck.
Judge William T. Newman, the Northern District judge presiding over the case of Mount Lebanon-native Costa George Najour, said fair or dark complexion of skin should not dictate whether a person belongs to a certain race, and that race is based on certain characteristics. Judge Newman cited The World's People, a book by A. H. Keane, which divides the world's races into three: Negro or black, Mongol or yellow, and Caucasian. The Caucasians included North Africa, Europe, Iran, India, Western Asia, and Polynesia.
Therefore, Mr. Najour, whose Mount Lebanon home sat in Western Asia, was considered white.
Mr. Zahr sees paradox and irony in today's debate about how to classify the group.
The early immigrants fought so hard to be white, and the generation today is fighting to reverse that classification, at a time when being Arab or Middle Eastern comes with social stigma.
"It's not like we're Greeks who don't have a box, or Italians who don't have a box," Mr. Zahr said.
"We're this group of people who everybody talks about, everybody writes about, but we are legally invisible."
Contact Hasan Dudar at: hdudar@theblade.com or 419-724-6082.
Guidelines: Please keep your comments smart and civil. Don't attack other readers personally, and keep your language decent. Comments that violate these standards, or our privacy statement or visitor's agreement, are subject to being removed and commenters are subject to being banned. To post comments, you must be a registered user on toledoblade.com. To find out more, please visit the FAQ.