This could be a Lifetime movie script. Heck, maybe it should be.
A young woman takes fertility drugs to become pregnant and realizes joyously on her 28th birthday that they have finally worked. But the pregnancy triggers a rarely seen, very aggressive form of breast cancer and she is forced to begin chemotherapy even before her baby is born. Shortly after giving birth, she undergoes a double mastectomy and, eventually, the painful process of breast reconstruction. In the midst of this, she loses a close friend to the disease. She, her family, and friends become involved in a bevy of fund-raising activities that target cancer, and this one-time high school softball player soon finds herself walking to the mound in a major league baseball stadium to throw out the ceremonial first pitch.
If Hollywood is interested, the script is already written. It is Carrie Samples' real-life story in Petersburg, Mich., and she documented it, step by step, in an online journal.
It is also why there is extra warmth in her heart, a special glow, as Carrie - cancer-free for more than a year - hugs Mia, now 19 months old, on Mother's Day morning.
Happy Mother's Day to all to whom it applies. You all have a story, for sure, but if you can top this one, well, get in line.
Mia Jillian Samples was born on Sept. 17, 2008. "She's here and she's perfect," Carrie wrote in her journal. "Having Mia has completely taken my mind off the cancer, which has been very nice."
There have been plenty of occasions in the year and a half since when Carrie's life was anything but nice. Tomorrow evening, though, was to have been one of the nicer moments as the former Summerfield High outfielder was selected to represent breast cancer survivors and victims alike by serving as "honorary bat girl" at Comerica Park when the Detroit Tigers staged their "Going to Bat against Breast Cancer" game vs. the New York Yankees.
However, because it is the Tigers' first home game since the passing of legendary announcer Ernie Harwell, a pregame tribute to him is to be held instead and "pink bat night" has been postponed until early June.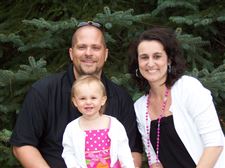 Carrie Samples has been cancer-free for more than a year and she and her husband, Josh, are enjoying their daughter, Mia.
NOT BLADE PHOTO Enlarge
We won't postpone telling Carrie's story, though, because Mother's Day is so perfect a stage.
"You're going to make me cry," she said. "I think Mia and I have a special little bond because we went through most of this together. I always pictured myself with a little girl and I knew she would be perfect, and she is. I can't imagine life without her. She's beautiful and has a lot of personality. She's a real trip.
"This whole thing has changed me, for sure. I'm a better and more complete person because of what I've been through and, certainly, because of Mia. I'd go through it all again, all day, every day, because she's definitely worth it."
Carrie's nightmarish-yet-remarkable journey, with husband Josh by her side at every step, began in July of '08, less than two months after getting an all-clear from a routine breast examination.
"I felt a lump," she said. "It was very significant. But I'd just had a clean exam, so I chalked it up to pregnancy. Josh, though, lost his mom to cancer when he was 13, so he insisted I have it checked out right away. My doctor was 99 per cent sure it was not cancer, but I had an ultra-scan, then a biopsy, and lo and behold …"
A subsequent genetics test showed Carrie inherited and carried a rare mutation on a gene called BRCA2. Thirty weeks into her pregnancy she was diagnosed with invasive ductal carcinoma, grade 3, stage II. The latter data means it was aggressive and advanced. The mutated gene was triggered by increased estrogen, meaning pregnancy likely caused the cancer. A dream followed by a bad dream followed by …
… Well, Carrie tells her whole story better than I ever could and you are invited to read her journal, a roller coaster ride filled with emotion, fear, and remarkable courage, the latter largely fueled by baby Mia (journal information at end of column).
And what were Carrie's worst moments?
"This will sound vain, I know, but I remember sitting there hugely pregnant, my hair falling out in clumps, and Josh shaved my head. We both cried like babies," she recalled.
But worse was when Rose Hunt died. She lived next door to Carrie's mother, Sandra Brown, and to Carrie was the "second mom" or adopted aunt we all seem to have. Rose beat cancer once, but lost her second fight and died four days after Carrie's double mastectomy in January, 2009.
"I went to visit her the night before I went in for my surgery," Carrie said, her voice catching. "She could hardly talk. We said good-bye. I figured I was getting off easy. I was just having my breasts removed."
Collectively, between Carrie's various fund-raising activities - Josh and Mia took part in a Susan G. Komen Foundation run/walk when Mia was nine days old - and a run honoring Rose Hunt, established by daughter Jessica Cribbs, held in conjunction with Petersburg's Community Day, tens of thousands of dollars have been raised for cancer research.
Last summer, Carrie joined friend Conni Harrigan as well as cousins Nicole Lloyd and Angie Bruckner to form a four-lady team in a Komen three-day walk held throughout Detroit and Ann Arbor. The four accounted for about $9,500 in donations and plan to do the same this summer.
Carrie and Josh do these things because they want to, because her past and, yes, maybe her future are invested in the cause, because of Rose, and perhaps most because of an unsettling, nagging reality.
"Mia has a 50 percent chance of inheriting the gene," Carrie said softly. "She'll either get my gene or Josh's gene, and if it's mine, well …"
Well, we don't need to get into the odds and the percentages. It's something to think and fret about, but not today.
Not on Mother's Day.
Contact Blade sports columnist
Dave Hackenberg at:
dhack@theblade.com
or 419-724-6398.
To read Carrie Samples' journal, go to www.caringbridge.org/visit/carriesamples.
For information on Komen 3-day walk, go to www.the3day.org. To support Carrie Samples' team, click on donate and search for the "Operation Healthy Hooters" team.
For information on the Rose Hunt Run, part of Petersburg Community Day on July 17, go to www.theroserun.com.
Guidelines: Please keep your comments smart and civil. Don't attack other readers personally, and keep your language decent. Comments that violate these standards, or our privacy statement or visitor's agreement, are subject to being removed and commenters are subject to being banned. To post comments, you must be a registered user on toledoblade.com. To find out more, please visit the FAQ.