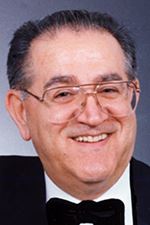 Sanchez
Bernard R. Sanchez, a musician, teacher, and conductor who had extended runs as principal trumpet of the Toledo Symphony; chairman of music at the University of Toledo, and president of the Toledo Federation of Musicians, died Monday in Lakes of Monclova senior community. He was 78.
He had congestive heart failure, said his wife, Rita.
One of Mr. Sanchez's last engagements was as conductor of music for an Advent Vesper service at Monroe Street United Methodist Church in 2011. He was a member of the congregation and, for 14 years, he conducted annual Palm Sunday concerts of large choral works not often performed in concert halls or churches, though composed by the likes of Beethoven and Verdi. He selected the music each year and led weeks of rehearsals.
"He felt a calling after that first performance," his wife said. "He wanted to do something to keep that church on the map, because it was known for its music, and he wanted to give something to the community it had not experienced in a long time."
Mr. Sanchez joined the Toledo Symphony in 1960 as principal trumpet at the invitation of Conductor Joseph Hawthorne. He also played with the Toledo Opera Orchestra and performed in settings varying from orchestral to chamber.
His was "a unique sound. His trumpet had a vocal quality to it," said David Jex, a UT music professor who took trumpet lessons from Mr. Sanchez as a high school student and who played with him in the faculty brass quintet. "All the other trumpet players would know if Bernie was playing in the orchestra. It had the lyrical quality that was hard to match."
Mr. Sanchez of Oregon taught music at Robinson Junior High School in Toledo and at McCord Junior High School in the Sylvania system. He started his UT career in 1963 as a part-time instructor.
He became a professor of music and was chairman of the university's music department from 1976 to 1993, during which master's degrees were added in music performance and music education.
"He's been so influential, and made so many contributions in so many ways," said Frances Renzi, a pianist and friend. "I worked with him so many times. It was always a pleasure and a privilege."
Mr. Sanchez also was a former president of the local musicians' union.
"He was a strong person and a born leader," his wife said.
He was born Sept. 18, 1935, in New Orleans to Ione and William Sanchez. He played in his high school band and continued to study music at Louisiana State University and then the University of Louisville, where he received a bachelor's degree in music education and master's degrees in music and conducting. He took a job running a hospital's morgue elevator in order to study with the principal trumpet of the Philadelphia Orchestra.
"He was one of those people who was just determined that this was what he wanted to do," his wife said. "It was his heart and soul."
He was an Army veteran and served stateside.
He and his wife were introduced by Sam Szor, longtime conductor for Music Under the Stars at the Toledo Zoo. Mr. Sanchez played trumpet in the band; Rita Cullinan, a soprano, was a guest artist. They married June 29, 1962.
Surviving are his wife, Rita Sanchez; daughters, Robin Vasaturo and Dawn Duncan; sister, Emelda Leathem, and four grandchildren.
Services will begin at 11 a.m. Oct. 26 in Monroe Street United Methodist Church, with visitation starting an hour earlier. The Eggleston Meinert & Pavley Funeral Home is handling arrangements.
The family suggests tributes to Monroe Street United Methodist Church.
Contact Mark Zaborney at: mzaborney@theblade.com or 419-724-6182.
Guidelines: Please keep your comments smart and civil. Don't attack other readers personally, and keep your language decent. Comments that violate these standards, or our privacy statement or visitor's agreement, are subject to being removed and commenters are subject to being banned. To post comments, you must be a registered user on toledoblade.com. To find out more, please visit the FAQ.