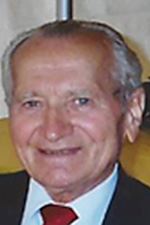 Takacs.
HANDOUT NOT BLADE PHOTO Enlarge
Louis Takacs, 93, who escaped the Communist crackdown after the quashed Hungarian Revolution and, in Toledo's Birmingham neighborhood, ran a grocery and meat market, died Wednesday in Toledo Hospital.
He had a brain hemorrhage at home. He and his wife, Margaret, formerly of West Toledo and Oregon, went to live with their daughter and son-in-law, Margie and Ted Peacock, in Petersburg, Mich., in April, 2011.
Mr. Takacs arrived in the United States in late 1956 and found work through St. Stephen Church, the Roman Catholic parish in the traditionally Hungarian-American East Toledo neighborhood of Birmingham. He was a butcher and had a shop in Hungary, and his first U.S. jobs were in a slaughterhouse and at a grocery store. He snapped up a Genesee Street carryout when the owner was ready to sell and created Takacs Grocery and Meats. "From a little carryout, he made it into more of a meat market known for its fresh meats and homemade lunch meats and sausages," said his son, Louis, who succeeded him in owning the market.
The third Louis in the Takacs line — his son, Louis' son, Louis — has run the market the last 15 years. "He was extremely proud of the fact that it's continuing from father to son and then to grandson," his son said.
His daughter said: "That meant everything to him. That's the reason he wanted to come to this country, to have the opportunity to provide for his family."
He, his wife, and their son became U.S. citizens Nov. 14, 1963.
Mr. Takacs also owned apartment buildings for years. He used to own rental properties in North Miami Beach and lived there part time. Even there, he found work at an Italian meat market.
He was born Sept. 1, 1920, in Gorgeteg, Hungary, to Julianna and Joseph Takacs. Determined to pull the family out of poverty, he went to work as a butcher's apprentice at age 15, his daughter said.
He most recently attended Bedford Alliance Church. He formerly attended Hopewell Wesleyan Church and St. Stephen.
Surviving are his wife, Margaret, whom he married April 30, 1944; son, Louis; daughter, Margie; eight grandchildren, and four great-grandchildren.
Visitation will be from 3-8 p.m. Sunday in the Michael W. Pawlak Funeral Home, Temperance, where services will be at 11 a.m. Monday. The family suggests tributes to Bedford Alliance Church; Hopewell Wesleyan Church, or a charity of the donor's choice.
Contact Mark Zaborney at: mzaborney@theblade.com or 419-724-6182.
Guidelines: Please keep your comments smart and civil. Don't attack other readers personally, and keep your language decent. Comments that violate these standards, or our privacy statement or visitor's agreement, are subject to being removed and commenters are subject to being banned. To post comments, you must be a registered user on toledoblade.com. To find out more, please visit the FAQ.