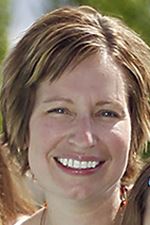 Langsdorf
THE BLADE/AMY E. VOIGT
Enlarge | Buy This Image
Josie Gonzales Langsdorf of Monclova Township, who shared her battle with lung cancer on a reality television show, died Monday in Hospice of Northwest Ohio, Perrysburg Township. She was 41.
Ms. Langsdorf, who had never smoked, was diagnosed in 2010, and responded by creating a "bucket list" of things to do.
Among the more serious items was an unconventional wish: Meeting Scott Disick, a star of E! network's Keeping Up With The Kardashians. That was checked off thanks to a social media campaign launched by her oldest daughter Ashley Langsdorf.
Legions of Twitter users helped persuade Mr. Disick to visit her, which he did in January, 2013, and Ms. Langsdorf's resiliency became an inspirational plotline in a June episode.
The bucket-list request wasn't about celebrity; it was a way to kick cancer.
In an interview last year, Ms. Langsdorf shared her approach to fighting cancer: "I always said I would live my life to the fullest."
Wallowing was not her style. "She was pretty much a symbol of hope to everyone," her daughter Ashley said. "She was just a tough lady. She just had a crazy will for life."
That meant packing in adventures with family, friends, and her daughters Ashley and Allison.
In a card to her mother, Melody Gonzales, Ms. Langsdorf made a heart wrenching plea. "She said, 'Mom, please take care of my girls and make sure they never forget me.' Of course they'll never forget her," her mother said.
A few weeks ago, Mr. Disick learned of her deteriorating health, and they spoke on the phone.
A 1990 graduate of Waite High School, she had been employed at NAMSA and Honeywell.
Surviving are her daughters, Ashley and Allison; parents, Junior "Manuel" and Melody Gonzales; brother, Manuel "Goozer" Gonzales, and sister, Angie "Dee Dee" Gonzales.
Visitation is noon to 8 p.m. Friday in Coyle Funeral Home. The funeral Mass is noon Saturday in Gesu Church. The family suggests tributes to the church.
Contact Vanessa McCray at: vmccray@theblade.com or 419-724-6065, or on Twitter @vanmccray.
Guidelines: Please keep your comments smart and civil. Don't attack other readers personally, and keep your language decent. Comments that violate these standards, or our privacy statement or visitor's agreement, are subject to being removed and commenters are subject to being banned. To post comments, you must be a registered user on toledoblade.com. To find out more, please visit the FAQ.