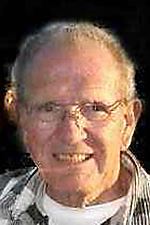 Rolland H. "Rollie" Beale.
HANDOUT NOT BLADE PHOTO Enlarge
Rolland H. "Rollie" Beale, 84, an auto racing champion and hall of fame inductee who competed on dirt and asphalt tracks nationwide from the early 1950s into the late '70s, died Monday in Toledo Hospital.
He had pneumonia and dementia, his daughter Barb said.
"He was the perfect combination of a gentleman and a brave race car driver," said Ron Drager, president of Toledo-based Automobile Racing Club of America, which sanctions races and owns Toledo Speedway.
Mr. Beale was inducted into several halls of fame after he left racing in 1977, said his son Gary, a former racer, including the National Sprint Car Hall of Fame in 1996. He was a chief steward for the U.S. Auto Club's sprint car and silver crown divisions in which he oversaw races and conditions. A USAC event at Toledo Speedway was named in his honor.
His hundreds of wins included 32 USAC features, five of which were at Toledo, and the 1973 series championship.
Racing was his avocation, but his job for 44 years was with the Detroit and Toledo Shore Line Railroad, which became part of Grand Trunk Western. He fixed rail cars and, when he retired in 1992, was a supervisor.
Born Jan. 16, 1930, he attended Whitmer High School but left to help support the family.
Surviving are his wife, Anna Mae, whom he married Oct. 9, 1948; sons, Gary, Rick, Tim, and Ron; daughters, Bonnie Scorziell and Barb Meyers; 16 grandchildren, and 15 great-grandchildren.
Visitation will be from 2-8 p.m. Friday in the Walker Funeral Home, Sylvania Township, where services will be at 10:30 a.m. Saturday. The family suggests tributes to the National Sprint Cup Hall of Fame and Museum in Knoxville, Iowa, or Hospice of Northwest Ohio.
Contact Mark Zaborney at: mzaborney@theblade.com or 419-724-6182.
Guidelines: Please keep your comments smart and civil. Don't attack other readers personally, and keep your language decent. Comments that violate these standards, or our privacy statement or visitor's agreement, are subject to being removed and commenters are subject to being banned. To post comments, you must be a registered user on toledoblade.com. To find out more, please visit the FAQ.