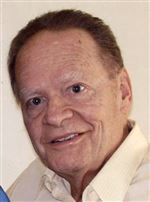 Steiner
Ray Steiner, 72, a retired Bowling Green State University professor and internationally known mathematician and scholar, died Feb. 13 at Toledo Hospital, where he was taken after suffering a massive brain hemorrhage at home.
Mr. Steiner did not come to breakfast that morning, and one of his cats alerted his wife, Carol, that something was wrong.
"He always said that he wanted to go in his sleep," and that is essentially what happened, Mrs. Steiner said.
He was a quiet and gentle man who loved teaching and solving complex mathematical equations, his wife said. He retired from BGSU in 1998 after 30 years in the math department.
Mr. Steiner had several offers after he received his doctorate at Arizona State University, but chose to join the faculty at BGSU.
"He kind of had his pick. He said there was something about Bowling Green that seemed like him," Mrs. Steiner said.
The Steiners met in 1971 on a blind date and married less than a year later at the Monroe Street Methodist Church in Toledo. They were introduced by a friend who thought they were a good intellectual match.
"We clicked right away. We knew in three weeks that this was it. He said, 'I think we ought to get married,' and I said, 'I think it sounds like a pretty good idea.' I told him the only requirement is that he had to give me a heart-shaped diamond ring," Mrs. Steiner said.
Mr. Steiner did give her that ring and the two had what their friends describe as an ideal marriage. They were both teachers, Mrs. Steiner taught high school music, a passion they both shared.
"He played both violin and the viola and I accompanied him on the piano," she said.
"They had one of the best marriages I have ever seen. They are inseparable. I have never met any couple like them. When he married Carol, he really came out of his shell," said Tom Hern, a close friend and former BGSU colleague.
The two joined the math department a year apart and retired at the same time.
"He was one of the smartest people I have ever known, and to other people that made him a little weird and nerdy," Mr. Hern said.
He said Mr. Steiner taught undergraduate and graduate courses and was a prolific scholar who published 35 publications and numerous books and papers. He was highly respected in the department and internationally known by the particular group of mathematicians known as number theorists.
"Through him I met Louis Mordell, one of the most famous number theorists of the 20th century," Mr. Hern said.
Mr. Steiner's graduate thesis was an explanation of how to solve Mordell's Equation, a complex mathematical problem studied by theorists around the world.
He was a gentle giant in his field, but many of his friends are just learning about all his accomplishments because he did not brag or boast, Mr. Hern said.
In 1987, Mr. Steiner traveled to Budapest to present a paper at the International Numbers Theory Conference.
There he showed mathematicians from around the world an easier and more complete solution to solving a very well-known equation.
In a Blade article about his travels, Mr. Steiner said: "Nothing's unsolvable. Some things are just unsolved."
Born in New York City to the late Joseph and Clara Finkelstein, he later changed his name to Steiner because he did not want any children to be teased and called Frankenstein, his wife said.
When he was just 8 years old, his family moved to Arizona because of his asthma.
His father, who had worked in the Brooklyn Navy Yard, found work as an electrician after the move, Mrs. Steiner said.
He received a bachelor of science in electrical engineering from the University of Arizona in 1963, followed by a master's degree in 1965.
His mother, she said, was brilliant with languages and shared that talent with her son.
Mr. Steiner became fluent in nine languages and was a Hebrew scholar.
Surviving are his wife, Carol Steiner, and sister, Sharon Perry.
Visitation will be from 5 to 7 p.m. March 21 at the Deck-Hanneman Funeral Home, Bowling Green. A Celebration of Life Service will be at 11 a.m. March 22 at the First Christian Church, Bowling Green.
The family suggests tributes to the church or to a scholarship fund in his name for students entering the mathematical field, in the care of the mortuary.
Contact Marlene Harris-Taylor Marlene Harris-Taylor at: mtaylor@theblade.com or 419-724-6091.
Guidelines: Please keep your comments smart and civil. Don't attack other readers personally, and keep your language decent. Comments that violate these standards, or our privacy statement or visitor's agreement, are subject to being removed and commenters are subject to being banned. To post comments, you must be a registered user on toledoblade.com. To find out more, please visit the FAQ.