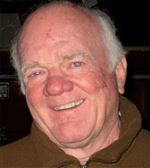 McIntyre
Richard B. McIntyre, who founded a successful medical billing business, died Wednesday in Cleveland Clinic. He was 75.
He suffered cardiac arrest, his son Pat said. Mr. McIntyre of Ottawa Hills and Naples, Fla., had melanoma and had undergone tests in advance of surgery.
Mr. McIntyre in the 1970s began a business eventually called ExpressBill. Earlier, while selling inserting machines to medical offices for Pitney Bowes, Mr. McIntyre "realized that these hospitals and physicians didn't have a way of sending out their own bills," his son said.
Mr. McIntyre'‍s firm at first microfilmed physicians' ledger cards in order to send out patient bills. As the medical world moved to computer recordkeeping, doctors sent data electronically to Mr. McIntyre'‍s firm.
"He was the most visionary person I've met in my life," said Ken MacLaren, who sold Mr. McIntyre the firm'‍s first building and became a friend and partner in other ventures. "He could see the big picture when no one else could."
Mr. McIntyre was in charge of the medical billing firm while his son Mike ran operations and his son Pat handled sales and marketing.
"He was very energetic, always forward thinking — '‍We have to do this better. We have to be faster and leaner and meaner,'‍ " son Pat said. "He did a good job of building up his employees so they could be the best they could be."
Mr. McIntyre sold ExpressBill in 1998 to Envoy Corp. of Nashville. The firm, which employed 170 people in South Toledo, had done $90 million worth of business in the year previous. He based workers' severance on their contribution to the firm, so a veteran employee in a support role received a check more handsome than the recently hired executive, his son Pat said.
He stayed on for a year after the sale. His son Pat was president until 2001.
Mr. McIntyre also was an investor in several area businesses — "a very loud silent partner," son Pat said. Mr. McIntyre also was a co-owner of Russ'‍ and Tip Top auto washes in West Toledo.
Mr. McIntyre — also called "Dick" or "Mac" — and Mr. MacLaren were among the partners in the former Wrap n'‍ Ship, which had opened several locations in the Toledo area.
"He always saw something good in everybody, which is an incredible trait," Mr. MacLaren said.
Mr. McIntyre was a longtime member of Highland Meadows Golf Club.
He was born Aug. 24, 1938, in Detroit to Anne and George McIntyre. The family moved to Redwood, Calif., and Indiana. He was a graduate of Angola High School and attended Indiana University. Before Pitney Bowes, he was a salesman for General Telephone.
"He wanted to own his own business, and he had this drive to do it on his own," his son Pat said.
He formerly owned a furniture refinishing business.
Surviving are his wife Jacquie McIntyre, whom he married in 2002; sons, Patrick, Michael, and T.J. McIntyre; stepdaughters, Shannon Petruzello and Dr. Colleen Olsen; sister, Annie Dulinsky, and 16 grandchildren.
Visitation will be from 3 to 8 p.m. Sunday at the Reeb Funeral Home, Sylvania. Services will be at 10 a.m. Monday in St. Joseph Church, Sylvania.
The family suggests tributes to Maumee Valley Habitat for Humanity.
Contact Mark Zaborney at: mzaborney@theblade.com or 419-724-6182.
Guidelines: Please keep your comments smart and civil. Don't attack other readers personally, and keep your language decent. Comments that violate these standards, or our privacy statement or visitor's agreement, are subject to being removed and commenters are subject to being banned. To post comments, you must be a registered user on toledoblade.com. To find out more, please visit the FAQ.