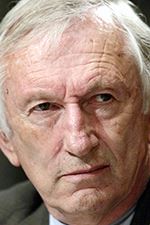 Jeffords
ASSOCIATED PRESS Enlarge
MONTPELIER, Vt. — Former Vermont U.S. Sen. James "Jim" Jeffords, who in 2001 tipped control of the Senate when he quit the Republican Party to become an independent, died Monday. He was 80.
Mr. Jeffords died in Washington, said Diane Derby, a former aide. He had been in declining health, she said.
Mr. Jeffords had announced in 2005 that he would not seek a fourth term, citing his and his wife's health problems.
"I have had an enormously satisfying career, one that I would not have traded for any other," he said when he retired. "In no other job do you have both the freedom and obligation to solve problems and help people on a daily basis."
"During his more than 30 years in Washington, Jim never lost the fiercely independent spirit that made Vermonters, and people across America, trust and respect him," President Obama said in a statement.
Mr. Jeffords served more than 30 years in Washington. He won election to the House in 1974 as a Republican. The post-Watergate year was a strong one for Democrats nationally, but Mr. Jeffords was running as Vermont was just starting its shift from a century of solid Republicanism to its current status as among the most liberal states.
The Rutland native, a graduate of Yale and Harvard Law School, had won statewide office as attorney general and was from a well-known Vermont Republican family. His father, Olin Jeffords, had been chief justice of the state Supreme Court.
When he first moved to Washington he lived in his office and a travel trailer to save money.
"He was a very frugal guy, both with his own resources and the resources of the people," said Karen Meyer, a former aide.
"He wasn't a fancy dresser, he wasn't a fancy speaker. He didn't ever have a fancy car. He just was a person who appreciated the things he had and didn't want for more," she said.
Mr. Jeffords had a black belt in tae kwon do and until his departure from the Republican Party was a member of the Singing Senators, with GOP Sens. Trent Lott, John Ashcroft, and Larry Craig.
During his time in Washington, he stood out as a moderate to liberal Republican during a time when the party was moving to the right. He was a strong backer of education, the environment, job training, and help for people with disabilities.
He was the only Republican in the House to vote against President Ronald Reagan's tax cuts in 1981. After election to the Senate in 1988, replacing another moderate Republican, Robert Stafford, Mr. Jeffords opposed President George H.W. Bush's appointment of Clarence Thomas to the U.S. Supreme Court.
A decade later, when Republicans had gained control of the White House and both houses of Congress, Mr. Jeffords, became upset with President George W. Bush's opposition to the Individuals With Disabilities Education Act. In May, 2001, he declared he would leave the Republicans and caucus with the Democrats.
Mr. Jeffords' switch cost Republicans control of the closely divided Senate. GOP Leader Trent Lott of Mississippi dubbed his action a "coup of one," and described it as "the impetuous decision of one man to undermine our democracy."
"In 2001, he displayed enormous courage by leaving a party that, he often said, had left him because of its dramatic move to the right," said Bernie Sanders, a left-leaning independent who was elected to Mr. Jeffords' seat in 2006.
At the heart of Mr. Jeffords' decision was a belief that Republicans in general and President Bush in particular had become too conservative and that he could not stay in a party that favored tax breaks for the wealthy over full funding of education programs for the disabled.
The Republicans took the Senate back 18 months later and added to their gains the 2004 elections.
Mr. Jeffords' wife, Liz, died in 2007 of cancer.
Guidelines: Please keep your comments smart and civil. Don't attack other readers personally, and keep your language decent. Comments that violate these standards, or our privacy statement or visitor's agreement, are subject to being removed and commenters are subject to being banned. To post comments, you must be a registered user on toledoblade.com. To find out more, please visit the FAQ.