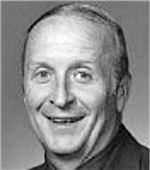 Weinert
BOWLING GREEN — John Weinert, who coached Bowling Green State University men's basketball teams to Mid-American Conference championships during his decade-long tenure, died Thursday in Ellenton Hospice House in Palmetto, Fla. He was 83.
He fell the week before at his home in Sarasota, his son, John "Buzz" Weinert, said. He'd fallen in May and developed pneumonia and had been dealing with lung cancer the last two years.
Mr. Weinert came to BGSU in 1976 from St. Joseph's College of Indiana, where his teams played in three consecutive NCAA Division II basketball tournaments and had a regional championship. He had an overall record at BGSU of 146-133, with a MAC co-championship in 1981 and an outright championship in 1983. His MAC counterparts gave him "coach of the year" honors in 1978, and he was Basketball Times coach of the year in 1980.
"He was a caring and energetic coach," said Tim Dunn, a booster of BGSU athletics for many years. "He brought a ton of excitement to the Bowling Green community and Anderson Arena.
"He was passionate about basketball and BGSU," Mr. Dunn said.
Bill Hogan, who played for Mr. Weinert at St. Joseph's, said: "He was a tough, demanding coach." Mr. Hogan became an assistant coach for Mr. Weinert at BGSU.
"He was very decisive. He could make difficult decisions," said Mr. Hogan, now athletic director at Seattle University. "All the assistant coaches might disagree, and he would do it anyway."
Mr. Weinert was known for his distinctive — colorful and reliably polyester — dress.
"He wasn't a slave to fashion at all," his son said. "He just had no taste in clothes."
Fans and foes alike came to know that he would don his sport coat — maybe the neon-mustard or gaudy orange or, his son said, the "ugly plaid one" — when a Falcons victory was all but certain.
He could be outgoing and exuberant.
"He always had something quick-witted to say," Mr. Dunn said.
Mr. Hogan, looking back on more than 40 years as player, coach, athletic director said, "He was one of a kind. I've never met anyone like him."
As Mr. Weinert announced his retirement in 1986, which had been a losing season, he said that he was taking the losses as hard as ever, "but I'm not enjoying the wins as much as I should.
"Being a coach for 24 consecutive years, well, there's been a lot of pressure and a lot of decisions," Mr. Weinert said in 1986. As he went into his final season, he led the Falcons to more MAC victories than any other conference school in the 1980s. He was sixth on the list of winningest MAC coaches. Of the then-active coaches, he was bested only by Bob Nichols of archrival University of Toledo.
"I'm very proud of that record," Mr. Weinert said in 1986. "And I'm very proud that during my coaching career, I've been able to help make some men into fine players. I'm even more proud, though, that I've helped some players become fine, productive men."
Mr. Weinert began his career at his alma mater, Rufus King High School in Milwaukee. He was the basketball coach at Ripon College in Wisconsin, where his teams won conference championships.
For several years in retirement, Mr. Weinert was on the board of the ill-fated Towne Bancorp, recruited in 1992 to attract investors. The would-be grass roots institution lost half its initial capital within 15 months and was sold in 1998.
He was born Sept. 5, 1931, to Violet and Anthony Weinert. He played football and basketball in high school. He attended the University of Notre Dame and had a degree in physical education from the University of Wisconsin. He received a master's degree from Northern Michigan University.
He was an Army veteran and golf enthusiast.
Shirley Weinert, his wife of 32 years, died Aug. 7, 1987.
Surviving are his wife, Elaine, whom he married in 1990; daughters, Cindi Baum and Kelly Zakis; son, John "Buzz" Weinert; stepdaughter, Jennifer McCabe; stepson, Jim Rehl; six grandchildren, and five stepgrandchildren.
Services will be private. Arrangements are by the Dunn Funeral Home, Bowling Green.
The family suggests tributes to the John Weinert scholarship at BGSU, St. Joseph's College in Indiana, or Tidewell Hospice in Sarasota, Fla.
Contact Mark Zaborney at: mzaborney@theblade.com or 419-724-6182.
Guidelines: Please keep your comments smart and civil. Don't attack other readers personally, and keep your language decent. Comments that violate these standards, or our privacy statement or visitor's agreement, are subject to being removed and commenters are subject to being banned. To post comments, you must be a registered user on toledoblade.com. To find out more, please visit the FAQ.