FREMONT — Sandra K. Inks, 72, a retired elementary librarian who, to her last written word, employed humor and stretched facts as a test of reading comprehension, died Oct. 26 at home in Sandusky County's Ballville Township.
She crafted her own obituary notice. Casual readers might miss the twist she gave a conventional phrase: "She was not surrounded by family or friends at the time of her death due to the big sale at Kohl's," Mrs. Inks wrote.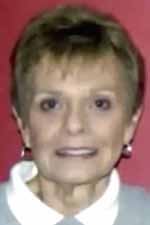 Inks
She had chronic obstructive pulmonary disease, her husband said.
"She wanted more of a celebration of life than a mourning of death," her husband said of the obit she wrote. "She didn't want everybody moping over her, and she wanted it to be a pleasant passing, and she wanted them to be at ease."
So, after the bona fide listing of arrangements, Mrs. Inks wrote: "At a date to be announced there will be a service where Sandi will be floated under the Ballville Bridge in a traditional Viking/​Hollywood ceremony with a barrage of flaming arrows soaring overhead to ignite her craft, sending sparkles of love and remembrances into the night sky. Follow Facebook for details. Parking will be limited."
She went over at least three drafts with her husband, who read what he thought was the final version. She slipped in one more line, which the funeral home published and Mr. Inks saw after her death: "Her husband, Roger, is registered at Kohl's and Target for towels and sheets."
Her husband said: "She did that so she could get the last laugh."
Mrs. Inks retired more than five years ago from Lutz Elementary School in Fremont, where she was librarian for 28 years. She wrote memos to communicate with faculty, but found early on that teachers scanned the documents but didn't really read them.
"She would start to make [the memos] interesting with silly snippets woven in with facts," her husband said. Her audience caught on.
"They would look forward to reading them. That's what got her rolling," her husband said.
Mrs. Inks tried to buy new books annually when the library's small budget allowed. If not, she paid out of her own pocket.
"If she saw something she liked, she bought it on our budget," Mr. Inks said. She knew the library's holdings thoroughly and took care that books appropriate to a grade level were shelved together.
"She wanted to make sure no kid would find a book too tough and be discouraged from reading," he said. "She tried to make it fun and exciting to come to the library."
She put aside needlepoint and crafts when grandchildren came along.
"She was in heaven again, with having little kids around and buying books and having them in her lap reading," her husband said.
She was born Dec. 31, 1944, to Maxine and Edward Price. She was a 1962 graduate of Fremont Ross High School and received a bachelor's degree in education from Bowling Green State University.
Surviving are her husband, Roger, whom she married July 12, 1969; sons, Curt and Craig Inks; stepdaughter, Michelle Lewis; stepson, Tom Inks; sister, Susan Hughes; two grandchildren, and six step-grandchildren.
Memorial services will be at noon Saturday at the Herman-Karlovetz Funeral Home, Fremont, where the family will greet friends after 10 a.m.
The family suggests tributes to Parker's Purpose Foundation.
Contact Mark Zaborney at mzaborney@theblade.com or 419-724-6182.
Guidelines: Please keep your comments smart and civil. Don't attack other readers personally, and keep your language decent. Comments that violate these standards, or our privacy statement or visitor's agreement, are subject to being removed and commenters are subject to being banned. To post comments, you must be a registered user on toledoblade.com. To find out more, please visit the FAQ.