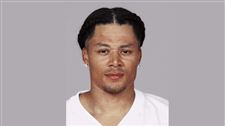 Terry Glenn
ASSOCIATED PRESS Enlarge
Officials say former Cowboys receiver Terry Glenn has died following a one-vehicle rollover traffic accident near Dallas that left his fiancée slightly hurt.
The Dallas County Medical Examiner's office says Glenn died shortly before 1 a.m. Monday at Parkland Memorial Hospital in Dallas. The ex-Ohio State standout was 43.
Jim Harbaugh opens press conference offering prayers to Terry Glenn and the Ohio State community.

— Kyle Rowland (@KyleRowland) November 20, 2017
Irving police are investigating the cause of the wreck at 12:18 a.m. on eastbound Highway 114. Police spokeswoman Chelsey Jones says Glenn, who lived in the Dallas area, was driving when the vehicle left the highway, struck a concrete barrier and rolled. Glenn was ejected. Jones says his fiancée suffered minor injuries. Her name and further details weren't released.
Glenn played 12 seasons in the NFL, from 1996 to 2007, with the New England Patriots, the Green Bay Packers and the Cowboys.
Guidelines: Please keep your comments smart and civil. Don't attack other readers personally, and keep your language decent. Comments that violate these standards, or our privacy statement or visitor's agreement, are subject to being removed and commenters are subject to being banned. To post comments, you must be a registered user on toledoblade.com. To find out more, please visit the FAQ.