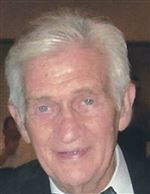 Ethan Brown Remley, 83, of Perrysburg, Ohio, passed away peacefully in his home on Tuesday.
Ethan B. Remley, smart in appearance, personable in demeanor, and who knew how to clinch the sale whether his product was a house or jewelry or — for most of his career — advertising space in The Blade, died Tuesday in his Perrysburg home. He was 83.
He had bladder cancer and received care from Hospice of Northwest Ohio, said his daughter, Roxane Remley.
Mr. Remley's specialty in more than 40 years at The Blade was retail advertising sales — persuading auto dealers or jewelry stores, for instance, to spend money on space in the newspaper and, in turn, sell themselves to readers.
"He wasn't willing to fail," his son, Rex, said. "He was driven to do more so he could have better things in life for his family than he felt he had grown up with."
His dapper appearance made an impression — a suit and tie, always; his suspenders evident as he worked around the office in shirtsleeves.
"His dress was unbelievable," said Paul Jakubowski, a colleague in retail advertising sales at The Blade. "Ethan was a perfect gentleman, a person you'd want to bring home with you."
He was honest, and he was direct, said Lee Gagle, a former Blade retail advertising manager.
"That's the whole thing with Ethan. He knew what he wanted to do and went straight in on the sale. No horsing around," said Mr. Gagle, who retired as Blade systems director. "He was a good salesman."
Mr. Remley retired in the early 2000s and sold real estate and worked in a jewelry store for a time.
He was a member of the Lake Board of Education, serving several terms starting in the 1970s. He later ran unsuccessfully for Lake Township trustee and Northwood City Council.
"He's always been one, even from his Army days, to want to do service," his daughter said.
Mr. Remley was a former chapter president of Toastmasters International. He was song leader at Main Street United Brethren in Christ in Walbridge and was a noted vocal soloist at weddings and other occasions. He sang a solo about two months ago at Rossford United Methodist church, where he was a member most recently.
He also sang with the Choraliers in Oregon.
Born Nov. 12, 1934, in Meadow Bridge, W.Va., to Edith and Charlie Remley, he was a graduate of Meadow Bridge High School and an Army veteran. He did railroad work in Walbridge before he started at The Blade, but didn't speak much of his past, his son said.
"He was more interested in what was going on now than back then," his son said.
After his first marriage, he was a single father for a time, "in a day when that was not the way things were done," his son said.
"He served as mother, father, breadwinner, driver to all our games. He did everything and maintained his job and his position at the church. He was a busy, hard-working individual. I learned from all that, if you really want to do something and put the time in, you probably can get it done."
His marriage to the former Sandy Middaugh ended in divorce. He and Joanna Manuli Brandeberry married June 26, 1977, and he sang a solo during the ceremony. She died March 4, 2016.
Surviving are his son, Rex Remley; daughter, Roxane Remley; stepson, Rick Brandeberry; sisters, Nova Patterson and Rae Maticia; seven grandchildren, and 10 great-grandchildren.
Visitation will be from 2-8 p.m. Thursday at the Eggleston Meinert & Pavley Funeral Home, Millbury Chapel, where funeral services will begin at 11 a.m. Friday.
The family suggests tributes to Hospice of Northwest Ohio.
Contact Mark Zaborney at mzaborney@theblade.com or 419-724-6182.
Guidelines: Please keep your comments smart and civil. Don't attack other readers personally, and keep your language decent. Comments that violate these standards, or our privacy statement or visitor's agreement, are subject to being removed and commenters are subject to being banned. To post comments, you must be a registered user on toledoblade.com. To find out more, please visit the FAQ.