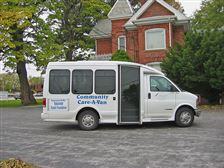 Care-A-Van takes people to medical appointments in Oregon, East Toledo, Northwood, Walbridge, and Lake Township.
The Care-A-Van service that delivers people in Oregon, Northwood, Walbridge, Lake Township, and East Toledo to and from medical appointments is getting a new vehicle.
The 2013 model the service expects to receive within several weeks is badly needed, the nonprofit agency said. Its current Chevrolet van is more than 10 years old, has almost 200,000 miles on the odometer, and its maintenance costs have risen steadily.
Care-A-Van officials, who are all volunteers, know that the new van can carry 12 passengers, but they won't learn its make and model until it is delivered. The vehicle was purchased through the Ohio Department of Transportation, which covered 80 percent of its $43,000 cost, said Dolores Glauser, a member of the Patient Advocacy Fund board, which oversees the service.
Care-A-Van board members don't know when they'll take delivery of the vehicle, but "we're waiting patiently. We were told it would be about 120 days from the time the purchase order was submitted. It was submitted in January," Ms. Glauser said.
Care-A-Van's share of the cost is to be covered by a $10,000 donation from the city of Oregon and $5,000 from Toledo Refining Co. The service also is supported by the United Way of Greater Toledo and public-service organizations such as the Rotary and Kiwanis clubs.
The agency's budget goes for fuel, vehicle maintenance, and wages for four part-time drivers, Ms. Glauser said. Its vehicle is parked in the garage at Mercy St. Charles Hospital and does not cross the Maumee River.
Care-A-Van's annual operating budget is about $45,000. Riders who can afford to do so pay $3 per ride.
The agency failed to obtain a donation from the city of Toledo, even though more than 60 percent of Care-A-Van riders live in East Toledo, Ms. Glauser said. The service has about 300 regular riders.
Most of the riders are taken to Mercy St. Charles, Bay Park Community Hospital, or nearby medical offices, said Dr. Erol Riza, a retired obstetrician-gynecologist who is the Care-A-Ride board chairman. He practiced in Oregon for more than 30 years.
Most riders are elderly, he said, and many could not afford the cost of a taxi to and from their medical appointments in Oregon if Care-A-Van were unavailable.
Except for East Toledo, none of the service's coverage area is part of the Toledo Area Regional Transit Authority.
"Oregon is very spread out and there is no public transportation," Dr. Riza said. "If you are on a very limited income and have to go to a cancer-treatment center once a week, you can be in difficulty. Not everyone can get a family member or friend to drive."
— Carl Ryan
Guidelines: Please keep your comments smart and civil. Don't attack other readers personally, and keep your language decent. Comments that violate these standards, or our privacy statement or visitor's agreement, are subject to being removed and commenters are subject to being banned. To post comments, you must be a registered user on toledoblade.com. To find out more, please visit the FAQ.