TOP WORKPLACES
These profiles of the winning companies were written by the companies themselves and provided to WorkplaceDynamics. Not all companies provided profiles.
■ Ballas Buick GMC: "Doing Business with Character" is our company mission statement. Ballas is a family owned and operated automotive dealership and has been in business for over 43 years. At Ballas we strive to offer our customers the highest quality and largest selection of new Buick, GMC, and pre-owned vehicles at a competitive price. We have an exceptional sales and service staff that will cater to all your automotive needs. Not only can you purchase your new vehicle from Ballas, but you can count on us to keep your vehicle running smoothly with our superior service center. We will also keep you "in the know" of Ballas news and specials through our monthly newsletter. Ballas has earned the coveted General Motors "Mark of Excellence" award for the past for years for business with excellence. We welcome you to Ballas and becoming a member of our family.
RELATED: The Blade Top Workplaces 2015
■ Bolt Express LLC: Bolt Express offers its customers a one-call solution for time-critical ground and air freight transportation services. As a transportation service provider, Bolt Express provides different types of transportation solutions to its customers while sharing a common commitment to quality and service. Regardless of mode, all customers receive their freight delivered on time and as expected.
■ Cardinal Staffing Services: Cardinal Services Inc. takes great pride in our leadership role within the staffing industry. Our leadership allows us to better assist our business clients to expand their operations and our candidates to build a better quality of life and future. As the link between employer and employee, it is our mission to provide the best environment for making these connections. We do so by maintaining a staff of the highest level of competence, and by providing them training in the most sophisticated staffing programs available. Cardinal Services was established in 1994 in Port Clinton. We have continued to grow in northwest Ohio, Florida, and Michigan, strategically located where the marketplace has demanded our human resource management expertise.
■ Central City Ministry of Toledo: Central City Ministry of Toledo, comprised of Queen of Apostles and Rosary Cathedral Campuses, is a central city pre-K through 8th grade Diocesan school. Central City Ministry provides a strong academic and religious education to a diverse population while focusing on personal growth and compassion for others. We strive to develop life-long learners prepared to contribute to their community.
■ Christian Home Care: Christian Home Care is a premier provider of in home services. Our mission is to enhance the quality of life for seniors and their families by providing the personal care, compassion, and spiritual encouragement they need and deserve in the comfort and familiarity of their own homes in a way that is pleasing to God. We focus on the care of our client and the well being of our caregivers. We provide all the necessary tasks someone living at home might need assistance with from companionship to complete care (bathing, feeding, ambulating, transferring, safety, respite care for loved ones, post rehab or hospitalization and during a bereavement period). We can provide transportation to appointments and events. We do not evangelize through Christian Home Care. We hope people see our faith in being His hands, feet, head, and heart to others. We offer spiritual encouragement and support to those who desire it. Therefore we are the choice for people of every faith background and those who are not faith based as well. It's the way we do what we do that brings people to us.
■ Ed Schmidt Automobile Group: We are a sales and service leader in the automotive industry. We are an automobile dealer for new GMCs, Volvos, and Volkswagens as well as pre-owned vehicles. We have an in-house rental agency and a state-of-the-art body shop facility. We are the preferred repair facility for more than 40 insurance companies.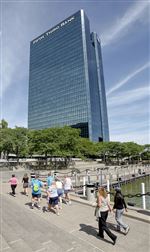 Employees at Fifth Third Bank selected their managers as the top in the region. According survey results, managers at Fifth Third help workers learn and grow, make it easier for workers to do their jobs, and care about worker concerns.
THE BLADE/ANDY MORRISON
Enlarge | Buy This Image
■ Fifth Third Bank: Fifth Third Bank is a diversified financial services company headquartered in Cincinnati and operating in 12 states. Its four main businesses include wholesale banking, branch banking, consumer lending, and investment advisers. Fifth Third Bank, a two-time Gallup Great Workplace Award winner, focuses on creating an engaging and inclusive environment where employees experience rewarding, challenging roles in a workplace that inspires personally and professionally. The bank looks for people who want to accomplish something of lasting value for their customers, communities, and themselves, guided by our core values of integrity, teamwork and collaboration, respect and inclusion and accountability. Fifth Third believes in creating an environment that supports diversity, provides training and development, and brings out the best in everyone. The bank supports individuals and communities through philanthropy, employee volunteerism, and financial empowerment and other programs. Fifth Third Bank, Member FDIC, is proud to be an affirmative action and equal opportunity employer (minorities, females, and ​individuals with disabilities, and protected veterans).
■ Hanson Inc.: Hanson Inc. is a full-service digital agency. We provide leadership in: brand strategy; insights and analytics; Web site development; content marketing, digital media and promotions; mobile applications and kiosk development; social engagement; video production; and event productions. Our clients include Eaton Corp., HGTV, Key Bank, KraftMaid, Maritz, Merillat, Owens Corning, ProMedica, Thirty-One Gifts, and the Toledo Museum of Art.
■ Harbor Corp.: Harbor is the largest mental health provider in northwest Ohio and encompasses a wider range of services that include counseling, psychiatric services, developmental and behavioral pediatrics, care coordination, adult day services for individuals with developmental disabilities, vocational programs for those with barriers to employment, wellness education, and employee assistance programs. Harbor was voted a top workplace in the Toledo area in 2014. Harbor also recently celebrated its 100th anniversary. Harbor's mission is to offer those they serve health, hope, happiness, and opportunity.
■ Jones-Hamilton Co.: Founded in 1951, the Jones-Hamilton Co. manufactures and markets specialty chemicals for use in agriculture, food processing, energy, steel, and water treatment. We are dedicated to being a reliable supplier who supports our customers with consistent quality, credible technical support, new applications, and responsive customer service.
■ MassMutual Ohio: MassMutual Ohio in Maumee is a firm of knowledgeable, caring professionals whose chief concern is to help you, and those who depend on you, create and preserve wealth. As the only General Agency in the region, we are able to do this through our broader platform of products. Our team offers a wide portfolio including life insurance, annuities, disability income insurance, long-term care insurance, retirement planning strategies, estate planning strategies, and college funding products. We also offer wealth management strategies, investment strategy services, business planning, and more. Whatever your financial goal, we have the expertise and access to products that will help you get there.
■ Master Chemical Corp.: Manufacturer of metalworking fluids.
■ North Star Bluescope Steel LLC: North Star BlueScope Steel produces flat-rolled, hot-banded steel. We produce our steel by melting scrap steel, alloys, and virgin iron into our electric arc furnaces. Once molten, the liquid steel is carried to our Ladle Metallurgical Furnaces where it is further refined to meet customer specifications. From there, it is transported by crane to our Caster where it cools slightly on the surface and is transformed into a slab. Once it exits the Caster, it gets sheared into segments and sent into a tunnel furnace to regulate the temperature before rolling. Then it passes through two roughing stands that reduce its size by half, then it passes through six finishing stands where it finishes rolling. It then goes to the coilers and gets coiled up, banded, and sent to shipping to cool off before it is sent off to the customer. Each year we make about 2.2 million tons of flat-rolled steel primarily from recycled scrap steel.
■ Ohioans Home Healthcare: Ohioans Home Healthcare is a skilled home-care agency providing skilled and nonskilled services along with physical, occupational, and speech therapies as well as social work, servicing 17 counties in Ohio and Michigan and accepts Medicare, Medicaid, private pay, and most insurances. Josh Adams is the owner and chief executive officer of Ohioans Home Healthcare "What sets us apart is doing the right thing for patients every time, we look at patient care before reimbursement." The business philosophy is twofold; Mr. Adams operates with a focus on customer service, making sure clients have the services they need for the best health and quality of life possible. His second platform in operating his business in making sure his employees are satisfied with their jobs. Our mission is to help individuals lead healthier, more independent lives by providing the highest standard of care. We strive to respectfully and compassionately meet the needs of our patients and their families, by listening, planning, educating, and delivering the highest standard of individualized care. We are committed to providing excellence in everything we do.
■ Otsego Local Schools: Public school district servings students in preschool through 12th grade.
■ Perrysburg Exempted Village School District: Perrysburg Schools' mission is ensuring students achieve their greatest potential. Our district has been ranked excellent by the State Department of Education for 12 years, and earned all A's and B's under its new system this past year. Perrysburg was named among Ohio Magazine's Best Hometowns and Family Circle Magazine's Best Towns for Families, and a large part of what makes the community strong are our schools. Our high school earned U.S. News & World Report's Silver Medal Award two years in a row. We are ranked 22 of 548 districts by the state regarding our opportunities for, and performance of, students identified as gifted. Our district's biannual public opinion survey shows that a strong majority of residents rank our school system with an "A" grade, and only 17 percent of respondents were parents in our district. When ranking the district's strengths, the top responses were: "academic program/​curriculum," followed by "safe environment," "performing arts," and "supportive community."
■ Plante & Moran, PLLC: Founded in 1924, Plante Moran is among the nation's largest certified public accounting and business advisory firms, providing clients with tax, audit, risk management, financial, technology, business consulting, and wealth management services. We specialize in serving medium-sized, owner-managed businesses in several industries, including financial institutions, health and human services, manufacturing and distribution, service, real estate/​construction, retail dealerships, and nonprofit/​public sector. Plante Moran has a staff of more than 2,000 professionals in 22 offices throughout Michigan, Ohio, and Illinois with international offices in Shanghaia; Monterrey, Mexico; and Mumbai, India.
■ Raseri Inc.: Raseri Inc. is an independently owned sales and marketing firm in Perrysburg. We specialize in outsourced promotional sales and new client acquisition for one of the largest Fortune 500 telecommunication companies within northwest Ohio.
■ Taylor Automotive Family: Taylor Automotive provides new and used vehicles to northwest Ohio. We also provide service to all makes and models.
■ The JDI Group: We are an architectural and engineering design firm. Our multidesign disciplines include; civil engineering, structural engineering, architecture, facility mechanical engineering, process mechanical engineering, electrical engineering, chemical engineering, and instrumentation and controls. All of our designs are completed in 3D. We utilize up-to-date software and equipment in order to provide our clients with the best product possible. The expertise of our multidisciplinary team of professionals allows us to meet and exceed client expectations. The depth of services that the talented people at JDI offer enables us to be a one-stop shop for complex projects in both public and private sectors, nationally and internationally. Our commitment to quality and perseverance serves to create consistently reliable results. Our clients are in the manufacturing, chemical, refining and petrochemical, commercial, institutional, government, automotive, food, pharmaceutical/​health care, glass, transportation, and energy business sectors.
■ The Mannik & Smith Group Inc.: MSG is an Engineering News–Record Top 500 (2014), full–service consulting firm that offers a wide array of comprehensive services including civil and geotechnical engineering, environmental consulting, surveying, and construction support. We pride ourselves on being a single source asset for our clients, with the adept ability to anticipate and exceed client expectations. Our ambitious and accomplished staff of more than 250 professional engineers, environmental scientists, surveyors, technicians, and support personnel delivers integrated planning, inventive design, and diversified engineering and construction solutions to our clients from our offices throughout Ohio and Michigan. Our size affords us the ability to handle large, complex projects, while our broad spectrum of disciplined experts can manage smaller, specialized projects. With nearly 60 years of service and experience, combined with a highly trained professional staff, MSG has become a leader in consistently providing a quality product in a timely and cost–effective manner.
■ U.S. Xpress Logistics: Transportation and Logistics. As the brokerage arm for U.S. Xpress our mission is to provide superior service to enhance each customer's strategic market position. We specialize in dry van truckload, LTL, flatbed, refrigerated, and intermodal. What sets us apart from other brokers in the market is our ability to offer customers a hybrid solution of one of our own assets or one of our network carriers. In addition, our state-of-the-art technology and highly experienced people position us well for future growth.
■ Welch Packaging: Headquartered in Elkhart, Ind., Welch Packaging was started in 1985 with four employees. Since then, Welch has become one of the most dynamic independent packaging companies in the United States. Welch now has seven corrugated sheet plants across the Midwest. Welch Packaging has grown from four employees to more than 500 employees. With customers at the core of our business philosophy, we have a service discipline that makes us easy to do business with. Through organic growth, strategic acquisitions, and a strong entrepreneurial spirit Welch Packaging continues to be a leader in custom packaging solutions. At Welch Packaging, we believe in building boxes, but we don't believe in putting our associates into them. Welch hires people who fit our business culture — people with integrity, a commitment to customer service, and a passion for success — and we teach them the packaging business through a comprehensive individualized training and placement program. Welch looks for life-long learners committed to making a difference in the world through their work.
■ William Vaughan Co.: Certified public accountants, business consultants, and wealth advisers.
■ Yark Automotive Group: Retail automotive sales, service, parts, and body-shop repair.
Guidelines: Please keep your comments smart and civil. Don't attack other readers personally, and keep your language decent. Comments that violate these standards, or our privacy statement or visitor's agreement, are subject to being removed and commenters are subject to being banned. To post comments, you must be a registered user on toledoblade.com. To find out more, please visit the FAQ.