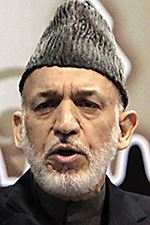 Karzai
ASSOCIATED PRESS Enlarge
Last week, the president of Afghanistan, Hamid Karzai, and his cabinet struck a blow to the U.S. and international presence in their country. They approved the release of dozens of Afghan prisoners who had been involved in attacks on Americans, other international forces, and Afghan soldiers.
Mr. Karzai's decision comes in the midst of roiling conflict between the Obama Administration, which seeks to prolong a U.S. presence in Afghanistan after the end of this year, and the Afghan president, who is dragging his feet on the issue. He has said, to the intense displeasure of American officials, that he will not sign an accord agreeing to the extended U.S. military presence before Afghan presidential elections are held, probably in April.
Control over all prisoner detention was given to Afghan authorities by American officials last year. Decision-making on releases is under the control of a three-person Afghan commission.
Since last March, 650 prisoners have been released from a lockup at Bagram Air Force Base, near Kabul. The commission reportedly plans the release of at least 85 more inmates.
The release of the prisoners amounts to an insult to American and other international forces that fought to apprehend many of them. The prisoners were involved in 117 attacks on Americans, other international troops, and Afghan soldiers. There is a real risk that upon their release, they will return immediately to combat in Afghanistan.
For Mr. Karzai, the releases represent an effort to reach out to the Taliban and his other opponents, seeking to present himself as president of all Afghans. But the danger to American and other foreign forces in the country is only augmented by the releases.
This provocative act by Mr. Karzai, unless it is reversed, offers another reason for the United States to end its involvement in Afghanistan this year, as planned. The Afghan government's release of fighters who have been captured and confined for their attacks on Americans and others is a clear signal that our forces are not welcome there, even by the government they are protecting.
Guidelines: Please keep your comments smart and civil. Don't attack other readers personally, and keep your language decent. Comments that violate these standards, or our privacy statement or visitor's agreement, are subject to being removed and commenters are subject to being banned. To post comments, you must be a registered user on toledoblade.com. To find out more, please visit the FAQ.