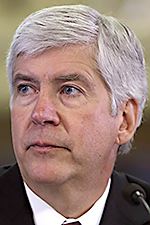 Snyder
Two bills are likely to soon reach Michigan Gov. Rick Snyder that would mandate suspicion-based drug testing for those on welfare. It's an unnecessary and misguided measure that Governor Snyder should veto.
Despite their lack of merit, bills like these continue to have political appeal. To create opposition to public assistance, politicians have for decades resorted to cheap shots, invoking the image of welfare chiselers sitting around and getting high off taxpayer dollars.
Such images are cruel and misleading, creating a distorted picture of who uses public assistance and why, especially today. Welfare benefits are generally limited to parents with dependent children, and they are restricted to a lifetime maximum of four years.
The bills call for throwing off the rolls recipients who test positive. There is little — if any — evidence, however, that drug use is a significant problem among those on assistance.
On the contrary, studies suggest that drug use among those on public assistance is no higher than it is in the general population.
When Florida tried a similar program a few years ago, it found so few welfare drug users that the state lost more money paying for the tests than it saved in denied benefits.
Results in Arizona were even more embarrassing to proponents: the state tested 87,000 people — and caught one drug user.
State Sen. Vincent Gregory, a Democrat from suburban Detroit, was one of the few to call this program what it is: A cheap, politically motivated attack on the poor.
In scrapping these bills, Mr. Snyder should urge lawmakers to focus their attention on more relevant priorities, including improving education and fixing the roads.
Guidelines: Please keep your comments smart and civil. Don't attack other readers personally, and keep your language decent. Comments that violate these standards, or our privacy statement or visitor's agreement, are subject to being removed and commenters are subject to being banned. To post comments, you must be a registered user on toledoblade.com. To find out more, please visit the FAQ.