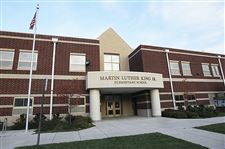 The Martin Luther King, Jr., Academy for Boys is one of two same-gender public schools in Toledo. A third such school will open next academic year.
THE BLADE
Enlarge | Buy This Image
Toledo Public Schools plans to expand its single-gender school offerings next year, in an effort to improve academic achievement in some of its most troubled schools. TPS is taking a progressive approach in offering parents and students greater choice and varied approaches to instruction.
Efforts to segregate students on any basis invite caution; there has been a mountain of debate about the effectiveness of same-sex schools and classes. But the gender school-choice movement is gaining broader acceptance, as success stories play out across the country.
Under the changes here, Samuel M. Jones at Gunckel Park Elementary will be converted into a high school with single-gender wings. The school, to be called the Leadership Academy, will join TPS' two single-gender elementary schools, Ella P. Stewart Academy for Girls and Martin Luther King, Jr., Academy for Boys.
The new school ultimately will educate students in grades 7 through 12. Although it will have separate wings and classes for boys and girls, students will have opportunities for coeducational activities.
TPS is not breaking new ground. Some urban school districts across the country, usually with low-performing students, began testing single-gender programs nearly 15 years ago. Many have netted academic success in the form of improved math and reading test scores, along with declines in discipline problems.
Students listen during a wellness assembly at Martin Luther King, Jr., Academy, one of two same-gender public schools in Toledo.
THE BLADE
Enlarge | Buy This Image
A 2001 federal law, cosponsored by then-Sen. Hillary Clinton, allows public school districts to offer the choice of single-sex schools or classrooms, but does not require such instruction. Many Catholic and boarding schools have historically offered same-sex classrooms, and have produced large numbers of college-bound graduates with high test scores.
Research suggest that girls and boys often thrive socially and academically in same-sex schools, partly because such programs respond to gender-specific learning styles.
The TPS transition to more same-gender educational opportunities is calculated. Jones is the lowest-performing school in the district; it offers a promising case study to track students' successes and failures. TPS Superintendent Romules Durant believes the same-sex structure may be especially effective in boosting student achievement in areas of concentrated poverty in the central city.
There are downsides to same-gender education. Some studies have shown that it reinforces sex stereotypes and does not prepare girls and boys to work together. Critics assert that same-sex classrooms promote institutional sexism.
It's important for girls and boys to socialize and interact with each other. TPS must continue to prioritize those opportunities for coeducational activities in same-sex schools.
Single-sex classrooms and schools offer no guarantee of academic success. But they provide educational choices for families, as well as opportunities to employ innovative teaching strategies.
Guidelines: Please keep your comments smart and civil. Don't attack other readers personally, and keep your language decent. Comments that violate these standards, or our privacy statement or visitor's agreement, are subject to being removed and commenters are subject to being banned. To post comments, you must be a registered user on toledoblade.com. To find out more, please visit the FAQ.