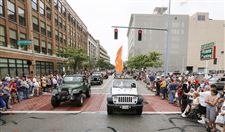 Jeeps parade down North Huron Street for Jeep Fest in Toledo on Aug. 13, 2016.
THE BLADE
Enlarge | Buy This Image
Nothing is more inherently Toledo than Jeep. Born here, built here, beloved here, even Chrysler executives have noted that Toledo is Jeep's "spiritual home."
Nothing demonstrated the city's love for its signature brand like 2016's inaugural Jeep Fest, which drew 40,000 people downtown to celebrate Jeep's 75th anniversary.
RELATED: 2018 Toledo Jeep Fest halfway to fundraising goal
Now, fund-raising is underway for the 2018 return of the festival, which promises to be even bigger and better. Organizers are halfway to their $300,000 goal and hope to attract 60,000 visitors — and 2,000 Jeeps — to the three-day August event.
The first Jeep Fest focused on Jeep's rich history. The sequel promises to focus on the brand's future.
Jeep is set to launch the next generation Wrangler just a few months before the festival. And the company also is preparing to build a Wrangler-based truck in the Toledo Assembly Complex.
Not only does Jeep owe a great deal to Toledo, but the Toledo region owes much to Jeep as well. Building Jeeps helped build this region, so it is only right that we have a special affinity for the vehicles.
Click here to view more Blade editorials
It also is only right that a celebration of Jeep be an event fueled by community pride. Planners have designed the event to appeal not only to the aficionados likely to travel here for a Jeep-centric event, but to cater to local families as well with a parade and entertainment.
Jeep Fest is a perfect way for Jeep to appreciate Toledo and Toledo to appreciate Jeep. With luck and hard work, the event will grow and become a regular tradition.
Guidelines: Please keep your comments smart and civil. Don't attack other readers personally, and keep your language decent. Comments that violate these standards, or our privacy statement or visitor's agreement, are subject to being removed and commenters are subject to being banned. To post comments, you must be a registered user on toledoblade.com. To find out more, please visit the FAQ.