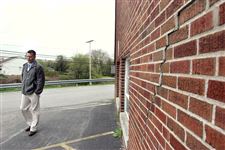 Pat Murtha, Rossford High School vice-principal, walks by cracks in the wall of Rossford High School, which was built in 1922. Bringing the high school up to standards would cost $18 million over 10 years.
THE BLADE/LISA DUTTON
Enlarge | Buy This Image
Rossford's old school buildings are structurally sound but out of date and in need of significant upgrades. Bringing the high school alone up to contemporary standards would cost $18 million over the next 10 years, and at least $20 million more would be needed to modernize all of the district's facilities in that period.
That's the preliminary, bottom-line conclusion of the facilities assessment performed on the district's five school buildings as part of an exploratory process to find the best way to upgrade the Rossford system's well-worn and outdated physical plant. It was released last week at a community forum in the high school auditorium that drew nearly 100 people.
A citizens committee has been studying the possibilities and coming up with options, and an architectural and engineering firm was hired to assess the buildings to determine their conditions and needs.
The committee recommended Garmann/Miller and Associates Inc. and has been researching the district's needs, its demographics, and its options for financing the improvements. A community survey is being done this month, and specific options and costs are to be determined in the spring. The committee could recommend construction or rehabilitation of buildings or a combination of both, its chairman, John Appt, said.
In June, a presentation is expected to be made to the board of education, which will decide whether to finance the improvements with a levy or internal funding. If a levy request is approved, it would appear on the November ballot.
The presentations at last week's forum included photos of moldering basements, cracked masonry, peeling roofs, and leaky windows.
Committee member Jen Pollard said the heating and cooling systems in every school building were problematic, with some classrooms reaching 100 degrees in the summer and chilled by cold-air gusts in winter. She said the buildings' electrical systems were adequate, but all of them had classrooms lacking a sufficient number of outlets. She said more bathrooms were needed for women and staff, and some restrooms had faucets that didn't work.
Committee member Bob Densic, said state aid was available for energy-efficiency upgrades. Mr. Densic, a registered architect, is a semiregular at school board meetings and has often told officials the inefficient buildings wasted money.
Melanie Sayre, another committee member, said state figures showed Rossford's enrollment had fallen 12.6 percent from 2000 to 2010. These findings would have a bearing on Rossford's plans. "What the census data indicate is that we are a shrinking community" that has been losing people to the likes of Perrysburg and Oregon, she said.
Guidelines: Please keep your comments smart and civil. Don't attack other readers personally, and keep your language decent. Comments that violate these standards, or our privacy statement or visitor's agreement, are subject to being removed and commenters are subject to being banned. To post comments, you must be a registered user on toledoblade.com. To find out more, please visit the FAQ.