When two seats on the Toledo Board of Education were up for election two years ago, there was a scramble just to get enough candidates to fill the spots. This year, with three seats up, there's a full slate of candidates and a guarantee of at least two new members on the board.
Board President Brenda Hill is not running for re-election and Larry Sykes is gunning for a seat on City Council. Although 10 people filed for the school board, two were not certified by the Lucas County Board of Elections.
Only incumbent Bob Vasquez is running for a new term, joined by a field of seven challengers.
Bob Vasquez, 61, is a former president of the Board of Education.
RELATED ARTICLE: Contenders for TPS board stress roots in district, vision for schools
Mr. Vasquez was appointed to the board in 2008, and was elected for a full term in 2009. During a stint as board president, Mr. Vasquez helped develop and push the district's transformation plan, which eliminated junior high schools and created districtwide K-8 buildings.
Mr. Vasquez also has pushed to bring back athletic programs that were eliminated in recent years. He pointed to those initiatives as reasons for the district's apparent ability to stem enrollment losses in recent years.
"I think we are getting the confidence of the community back," he said.
He said he wants to continue with the next phase of the transformation plan, which would turn TPS high schools into thematic programs. Mr. Vasquez helped push for a recent performance audit of the district and will head its implementation advisory panel. He also led the board when it hired previous Superintendent Jerome Pecko.
Mr. Vasquez is a licensed social worker and the director of special projects at the Twelve of Ohio Inc., a statewide nonprofit child welfare and mental health agency, according to his campaign biography.
When Mr. Vasquez ran in 2009, he had the support of the Democratic party and the teachers' union. This time, he wasn't endorsed by the party, and lost labor's support, though he was endorsed by the Toledo Regional Chamber of Commerce.
He drew union ire for his school-board leadership during tense contract negotiations two years ago that extracted wage and benefit concessions from employees.
Perry Lefevre, 53, is an anomaly in education. He lives in Toledo, but teaches in the Sylvania school district. Most times, it works the other way around.
He believes that TPS offers just as good an education as Sylvania does, but that it has a poor perception in the community that he wants to change. The district should better promote its vocational and career education options, he said, and he believes TPS can gain back students from charter schools, many of which he said are not successful.
"I think [TPS] has always been better than people give them credit for," he said.
Mr. Lefevre said the district should focus on improving literacy skills in early grades, moving a focus from third-grade reading to the first grade. He said the district eventually will have to ask for a new-money levy because state funding is unreliable, though he said he would want to wait until TPS showed measurable improvement.
Mr. Lefevre isn't just a teacher; he also leads the Sylvania teachers' union. Mr. Lefevre was endorsed by the Democratic Party and has received strong labor support, including an endorsement from the Toledo Federation of Teachers.
He said he doesn't believe his role as a teachers' union official precludes him from holding elective office. He said he would advocate for nonadversarial relationships with TPS employee unions, but said he told district union officials he and they are not going to agree in all areas. Mr. Lefevre said he is supported in his campaign by Sylvania's superintendent, and used that support as an example of his ability to create good relationships with both staff and management.
"I will vote for what's best for the district," he said. "We should all worry about kids first."
The Rev. Randall Parker III, 38, is the pastor of Manifested Word Church and president of Glenwood Elementary's parent-teacher organization.
An Old West End resident, Mr. Parker said his work in schools and his involvement in the community showed him the importance of parent participation in school success. He feels he can help promote parent engagement, especially in central Toledo, using efforts similar to the Glenwood PTO, such as days when parents are invited into schools to follow their children.
"Many of them are not connected [to their school] because of a certain perception," Mr. Parker said.
Mr. Parker believes he would bring a fresh face and energy to the school board. He wants to see school staff members build stronger bonds in the neighborhoods around their buildings, gaining the trust of parents, students, and neighbors. Schools should have open-door policies with parents, he said.
He wants to see expansion of community-based programs in school, such as GED courses taught by University of Toledo instructors at some TPS schools.
Mr. Parker is not shy about the importance of religion in his life. He believes faith and prayer should be more prominent in schools, though he advocates for moments of silence in TPS, not school-led prayer.
Mr. Parker was endorsed by the Democratic Party.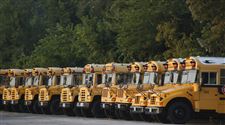 Eight candidates have filed for three seats up for election on the Toledo Board of Education on Nov. 5. Board President Brenda Hill decided not to seek re-election, and Larry Sykes opted to pursue a seat on City Council.
The Blade/Jeremy Wadsworth
Enlarge | Buy This Image
Polly Taylor-Gerken, 53, spent 30 years in TPS, starting as a secretary and working her way up to school psychologist, retiring in 2009.
Ms. Taylor-Gerken leans heavily on that experience when she talks about the school board, arguing that she is a uniquely qualified candidate who knows what works in TPS and what can be improved.
She said she believes TPS is on the cusp of major improvements, and wants to be a part of supporting those changes.
"I think now is the time to put that expertise ... to work," she said. "I really see a lot of things starting to align."
Ms. Taylor-Gerken said she would bring a collaborative approach to the school board, and said her work as a psychologist can help her engage in problem-solving with fellow board members. She also is focused on positive behavior support for students to reduce discipline rates.
She strongly supports the community partnership programs the district has undertaken in recent years, and wants to see those expand.
Ms. Taylor-Gerken is married to Lucas County Commissioner Pete Gerken. She has twice ran for City Council, advancing past the primary in both but losing in the general election.
Ms. Taylor-Gerken was endorsed by the Democratic Party, and has received strong labor union support.
Chris Varwig, 45, has been involved in TPS for years, serving as Parent Congress president and helping to organize parent events and Bowsher community work.
"I have a passion for public education," she said.
She believes she can help increase parent engagement in schools and promote volunteering in the district. She says she is effective at building partnerships, and would bring a positive attitude to the school board.
She proposed, among other ideas, for the district to hold preschool fairs at each school and to have preschool in each building. She also supports the return of block scheduling for high schools.
Though much of her work has been with South Toledo schools, Ms. Varwig says she feels she can relate to students in poor neighborhoods because she rose from poverty. Public education, she said, was a lifeline for her, and could be for others.
"I've been homeless," she said. "I've lived in a car."
Ms. Varwig has gained endorsements from numerous labor unions, including the teachers' union, and said her education views align with the Democratic Party. She's a registered Republican and asked to screen for the Democratic Party endorsement, but was denied.
She says she supports school choice, but believes TPS is the best option for students.
Tina Henold, 47, was the first to file for school board this year and has frequented board meetings for months. She is a political newcomer who brings an outside perspective for public education.
Ms. Henold wants TPS to push more money into classrooms, lamenting that many teachers must spend their own money for student supplies. She was an advocate for the performance audit and said savings it proposed, such as cutting outside legal expenses, could be funneled into classrooms.
She also said she wants to remove restrictions from teachers. "I don't believe in one-size-fits-all [education]," she said.
A Christian conservative, Ms. Henold home-schooled her three children and advocates school choice, such as vouchers for private education or charter schools. She said she believes in fiscal responsibility, thinks local decisions on education are better than those made in Washington or Columbus, and doesn't think the average taxpayer has a voice in TPS.
Ms. Henold drew an endorsement from the Chamber of Commerce. Ms. Henold and her family sold their belongings, packed a trailer, and went from church to church to raise money through donations for a missionary trip to Romania, where the family spent nine years.
Aji Green, 38, can be seen as both an establishment candidate and an insurgent.
A member of the Lucas County Democratic Party's Executive Committee, Mr. Green ran unsuccessfully for City Council in 2011 and school board in 2009. But the party chose not to endorse him this year. Mr. Green isn't shy about where he believes his support base is, citing black churches and central Toledo.
A father with a child in TPS and whose wife teaches for the district, Mr. Green says he's personally invested in the success of the district. He says he's long advocated for public education and volunteered for organizations involved with schools. Many of the other candidates, he said, are "Johnnies-come-lately" when it comes to public education.
Though he supports most of the district's transformation plan, he strongly opposes the concept of neighborhood schools, saying school boundaries based on geographic location near schools promotes segregation. Instead, he favors redrawing school boundaries to draw students from across the city to schools, or provide busing for students who open enroll in higher-performing TPS schools.
The district can also improve on customer service, as sometimes parents are turned away from schools, he said.
Mr. Green has received some labor support for his campaign.
Darryl Fingers, 57, is the endorsed Republican in the race. A former aircraft mechanic who has worked for the Lucas County Board of Elections, Mr. Fingers ran unsuccessfully in 2011 for the District 1 City Council seat.
Though a Republican, Mr. Fingers' platform isn't exactly about small government. Instead, he says the city should spend more money, not less, on the public school system, and he said he's a strong advocate in favor of property tax levies for TPS.
"We have to spend more money on schools to keep our kids out of jail, to keep our kids going on the right direction," he said. "If you want to build a strong community, you have to have strong schools."
Mr. Fingers also advocates longer school days, more after-school activities, more parental involvement, and mandatory foreign language courses for students.
Contact Nolan Rosenkrans at: nrosenkrans@theblade.com, or 419-724-6086, or on Twitter @NolanRosenkrans.
Guidelines: Please keep your comments smart and civil. Don't attack other readers personally, and keep your language decent. Comments that violate these standards, or our privacy statement or visitor's agreement, are subject to being removed and commenters are subject to being banned. To post comments, you must be a registered user on toledoblade.com. To find out more, please visit the FAQ.