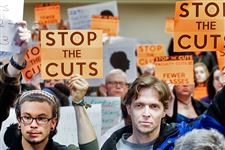 Student Adam Vaughn, left, and professor Matt Hoostal keep eyes fixed on the Bowling Green State Board of Trustees during a protest at its meeting Friday at the Bowen-Thompson Student Union.
THE BLADE/AMY E. VOIGT
Enlarge | Buy This Image
BOWLING GREEN — More than 100 protesters sat mostly in silence at a Bowling Green State University Board of Trustees meeting Friday, hands holding aloft signs lamenting cuts to university faculty.
Some signs said the cuts would create larger class sizes, hurt the value of a BGSU degree, and cause students to take longer to graduate. Others had silhouettes representing the faculty who will lose their jobs.
One sign read, "This instructor taught 8 courses in 2012-2013."
PHOTO GALLERY: Click here to view.
The protesters attended the meeting in opposition to planned cuts in faculty staffing BGSU announced late last month.
Blaming budget shortfalls, the university said it would not renew 30 full-time faculty members' contracts. Union officials said 40 actually will lose their jobs, once 10 others on one-year contracts that won't be renewed are included.
"We want to force the administration to recognize the impact of the cuts," said David Jackson, BGSU Faculty Association president.
The union plans to meet with administration officials next week to try to discuss alternatives, Mr. Jackson said. If the union remains unsatisfied after the meeting, it plans to file a grievance.
But for now, the union is focusing on public pressure. Students, staff, alumni, and supporters joined the crowd.
Provost Rodney Rogers said he believes the university has complied with its labor contract, but it will follow the grievance process if the union chooses that route.
The trustees mostly ignored the protesters, though board member Betty Montgomery talked about their concerns at one point. She said the administration hasn't disregarded the layoffs' personal impacts on staff.
"There are tough decisions that need to be made in this administration," she said.
Rudy Fichtenbaum, a professor of economics at Wright State University and president of the American Association of University Professors, called the cuts a travesty, and said BGSU should look elsewhere in its budget to cut costs. "These are people who have dedicated, in many cases, a substantial portion of their careers to BGSU," he said. "Other things can be cut that don't affect [BGSU's] core mission."
The university's plan to significantly cut the budget came in response to a projected $3 million to $10 million deficit over the next several years. Officials have pledged to plug the gap with spending cuts, not tuition hikes.
BGSU's faculty union argues the university has cash on hand, spends about 36 percent of its budget on faculty pay and benefits, and spends too much on such things as athletics and facilities construction. It also criticizes a $500,000 contract given to a firm to audit BGSU's operations, evaluate programs, and identify cost-saving measures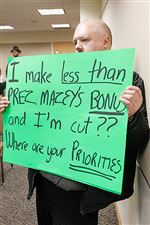 David Sennerud, a journalism instructor set to lose his job at BGSU for a third time because of staffing cuts, shows his feelings. President Mary Ellen Mazey said that con-tractually,she couldnot refuseto accepther bonus.
THE BLADE/AMY E. VOIGT
Enlarge | Buy This Image
While the protesters were mostly silent, there were moments of boisterous response from the crowd.
Sheri Wells-Jensen, Faculty Senate chairman, asked the board to consider other ways to be fiscally responsible, and said faculty can manage cuts to how the university operates.
"But we cannot manage cuts to who we are," she said, leading to loud and long applause from the crowd.
Protesters also responded — with boos, not cheers — when Ohio House Speaker Bill Batchelder (R., Medina) blamed a lack of state budget clarity on the Affordable Care Act. He said outside the meeting he wasn't informed on BGSU's budget situation, so he wouldn't comment on the impending cuts.
The crowd first gathered outside the meeting room in the BGSU student union before the board meeting, and jeered President Mary Ellen Mazey when she walked by accompanied by several trustees.
"Your bonus is more than I get paid," said Dave Sennerud, a BGSU journalism instructor who is among the 40 slated to lose their jobs.
Paid about $40,000 a year, Mr. Sennerud is to be laid off from the university a third time, although after the previous two he was recalled when officials decided they were understaffed. He said he plans to be unavailable if BGSU comes calling again.
Ms. Mazey's bonus was a particular target for protesters. The day she announced the need for budget cuts, the board gave her a 2 percent raise and $50,000 bonus.
"I don't like the fact her bonus check is bigger" than many instructors' pay, BGSU senior Rachael Sherry said.
Ms. Mazey defended the bonus Friday as part of her contract if she reached board-set goals, and said she couldn't refuse to accept it. She also said she donated her bonus to a student scholarship fund, a fact she said she had not wanted to make public.
Ms. Mazey said she hasn't considered taking a voluntary pay cut. "Why should I consider it?" she asked.
The layoffs will help BGSU align staffing to its peer institutions, she said. The university reduced dozens of positions last academic year.
Ms. Mazey said a contract with the faculty union called for pay raises. Cuts so far have not boosted section sizes or jeopardized academic programs, she said.
Contact Nolan Rosenkrans at: nrosenkrans@theblade.com or 419-724-6086, or on Twitter @NolanRosenkrans.
Guidelines: Please keep your comments smart and civil. Don't attack other readers personally, and keep your language decent. Comments that violate these standards, or our privacy statement or visitor's agreement, are subject to being removed and commenters are subject to being banned. To post comments, you must be a registered user on toledoblade.com. To find out more, please visit the FAQ.