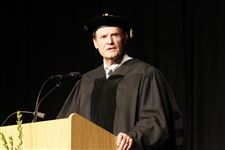 Michael G. Morris of American Electric Power addresses graduates at commencement.
The Blade/Jetta Fraser
Enlarge | Buy This Image
If nothing else, the University of Toledo's fall commencement on Sunday showed that even a graduation ceremony during an unconventional time of year is no small affair for a major university.
The Savage Arena parking lots were packed. Nearly the entire main floor of the basketball arena was taken up by UT officials involved in the ceremony or those about to get their diplomas. The latter represented the majority of UT's 2,215 most recent graduates from 12 of the university's colleges, some 733 of whom received advanced degrees.
The perimeter around the arena — the closest viewing area — was standing room only throughout most of the ceremony.
Teary-eyed mothers, fathers, sisters, brothers, aunts, uncles, cousins, grandparents, and relatives cheered with pride, some holding up bouquets of flowers or other items of congratulation on behalf of the hard work their loved ones put into earning their diplomas.
PHOTO GALLERY: University of Toledo's fall commencement
The building's atmosphere was so electric inside one would never have guessed the region had just been pummeled by its first snow storm of the season hours earlier, a massive event that kept snow plows working as commencement got under way and no doubt caused some to wonder if the ceremony would have to be postponed.
It wasn't. And ironically, it had a speaker from the electric industry to help charge up its electrifying atmosphere on an otherwise cold and dreary day.
Fremont-born Michael G. Morris, 67, American Electric Power non-executive chairman, said in the commencement program that managing some of the largest utilities in the country "has been a labor of love for me."
"In a country like America, the generation of electricity is a foundation of life," he stated. "It's a central part of our history."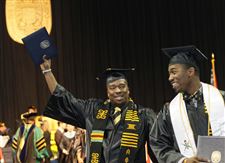 Eric Norvell II, left, and Taurean Young celebrate commencement at Savage Hall. Mr. Norvell of Elyria earned a bachelor of science in an individualized program, and Mr. Young of Dayton earned a bachelor of science in mechanical engineering.
The Blade/Jetta Fraser
Enlarge | Buy This Image
Based in Columbus, AEP is the nation's largest power-generating utility.
Mr. Morris went from earning his bachelor's and masters degrees in biology at Eastern Michigan University to becoming AEP's president and chief executive officer, positions he retired from in 2011 after seven years.
He was presented an honorary doctorate during the ceremony by Joseph H. Zerbey IV, Blade president-general manager and chairman of UT's board of trustees.
Mr. Morris began his commencement speech by telling graduates they "should not be intimidated by the opportunities that lie before you and there are many," agreeing with others to remain positive and upbeat despite the mixed signals of the American economy.
At least they're not entering the work force in 2009, when jobs were scarce because of the global financial crisis of 2008, he said.
"These are times that demand the best of you," Mr. Morris said. "Failure is almost impossible if you are truly passionate about what you're doing."
UT President Dr. Lloyd Jacobs presided over the ceremony and enthusiastically extended his arm to shake hands with many of the graduates as they came down a ramp after receiving their diplomas.
A vascular surgeon who lives on an area farm, Dr. Jacobs displayed his trademark affable demeanor and gregarious disposition as he reminded the graduates they have an "insoluble link" to UT once the ceremony ended.
"Whatever happens to you and the university, we are linked forever," Dr. Jacobs said.
In a commencement program letter, Dr. Jacobs said he wanted the graduates to think of their commencement as a beginning to a new chapter of their lives, not just a ceremony to mark the completion of their respective degrees.
"I recognize that the pathway that has brought you here today may have been long, probably expensive, certainly arduous, and perhaps occasionally frustrating," he wrote. "Still, I'd like to ask that you focus on commencement as a beginning and not as an ending."
UT and the former Medical College of Ohio, which was merged into the university in 2006, have more than 130,000 living degree holders, according to David Dobrzykowski, UT Alumni Association president.
The university was founded in 1872 as the Toledo University of Arts and Trades by Jesup W. Scott, a former Blade editor.
It closed in 1875 because of a lack of funding, but reopened in 1884 as the Toledo Manual Training School.
UT's main campus on Bancroft Street has existed since 1931.
Contact Tom Henry: thenry@theblade.com 419-724-6079.
Guidelines: Please keep your comments smart and civil. Don't attack other readers personally, and keep your language decent. Comments that violate these standards, or our privacy statement or visitor's agreement, are subject to being removed and commenters are subject to being banned. To post comments, you must be a registered user on toledoblade.com. To find out more, please visit the FAQ.