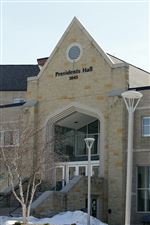 Presidents Hall is at the southwest corner of the university's Main Campus. It honors former presidents John Worthington Dowd, Philip Curtis Nash, Wilbur Wallace White, and Daniel M. Johnson.
THE BLADE/JETTA FRASER
Enlarge | Buy This Image
When University of Toledo officials decided to demolish the Dowd-White-Nash residence hall, they knew they wanted to find another site to pay homage to the past presidents of the university.
So UT leaders looked south to another residence hall, the Crossings, renaming the building Presidents Hall, and interior hallways of the building after John Worthington Dowd, Philip Curtis Nash, Wilbur Wallace White, and Daniel M. Johnson, all former UT presidents. The decision was made last year, but UT officials held an official renaming ceremony Friday.
"[Presidents Hall] is something like Mt. Rushmore," said Kaye Patten Wallace, UT's vice president for the student experience.
Mr. Johnson, who led UT from 2001 to 2006, is the only living past president with a named hallway. He said having a residence hall in his name was a career full circle, as he started his higher education career as a "dean of men" in 1964. He relayed humorous anecdotes of his early career for ceremony attendees, including when students carried a Volkswagen Beetle into the dorm and left it outside his door.
It was an honor, he said, to have his name included with other past leaders of UT.
"I like being in the company of presidents," Mr. Johnson said.
Dowd-White-Nash was knocked down in part to reduce the number ratio of traditional dormitory model rooms on campus. UT officials want to increase the number of suite-style rooms. A privately owned and operated student housing complex is planned for the former Dowd-White-Nash site.
Contact Nolan Rosenkrans at: nrosenkrans@theblade.com or 419-724-6086, or on Twitter @NolanRosenkrans.
Guidelines: Please keep your comments smart and civil. Don't attack other readers personally, and keep your language decent. Comments that violate these standards, or our privacy statement or visitor's agreement, are subject to being removed and commenters are subject to being banned. To post comments, you must be a registered user on toledoblade.com. To find out more, please visit the FAQ.