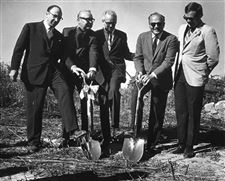 Blade Co-Publisher Paul Block, Jr., left, Gov. James Rhodes, Dr. Glidden Brooks, president of MCO, Dean Robert Page, and Lurley Archambeau, student body president, took part in a ground-breaking ceremony at the college in 1970.
THE BLADE
Enlarge | Buy This Image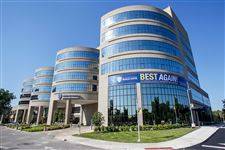 The University of Toledo Medical Center began as the Medical College of Ohio Hospital. Construction began in 1975, and the hospital opened in 1979.
THE BLADE
Enlarge | Buy This Image
A half century ago, an idea took root in Toledo that would flourish into the medical and educational foundation of the city — the Medical College of Ohio.
The college's creation in 1964 marked a new era, though only those with vision could have grasped the possibilities and future impact.
Fifty years later, the potential recognized by the school's earliest champions is evident at the sprawling South Toledo campus. Buildings now stand where only cornstalks and plans once grew, and more than 4,000 applicants a year now seek a spot in a medical school class of 175 students.
This year marks the golden anniversary for the Medical College of Ohio at Toledo, which became the University of Toledo college of medicine and life sciences after a 2006 merger with UT.
University officials and medical college supporters will gather at an anniversary event Saturday to celebrate the legacy launched when Gov. James Rhodes signed legislation that formed the college.
For years before the medical school's creation on Dec. 18, 1964, Paul Block, Jr., co-publisher of The Blade, had advocated for the college's creation. The upcoming celebration will pay tribute to the late Mr. Block, a research chemist whose support was credited by Governor Rhodes as a "moving force" behind the establishment of Toledo's medical college.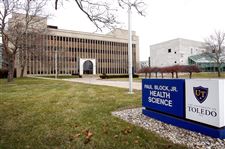 The health science building on the medical college campus was renamed for Paul Block, Jr., in 1995. The building's namesake was an organic chemist who was recognized for his research work involving the thyroid gland. Mr. Block was co-publisher of The Blade from 1941 until his death in 1987.
THE BLADE
Enlarge | Buy This Image
"Bringing a college of medicine and subsequently an academic medical center was a tremendously important landmark milestone and perhaps the most important thing that happened here," said Dr. Lloyd Jacobs, the former head of MCO who became the president of the University of Toledo when the two institutions merged.
Conversations about starting a local medical school intensified after an Aug. 17, 1960, article in The Blade describing a visit to Toledo by a Chicago hospital consultant, Dr. Charles Letourneau, who said Toledo should have a medical school. Supporters contended it would improve the quality of medical care and help fill a local physician shortage.
Mr. Block understood the importance of biomedical research, a chief reason he supported a medical college even though some local physicians didn't embrace the idea, said his son John Robinson Block, current publisher and editor-in-chief of The Blade.
"Father thought of Toledo as a great city," said another son, Allan Block, chairman of Block Communications Inc., parent company of The Blade. "This was an area that he felt we were deficient."
Various committees and groups studied the proposal, and in 1964 the Ohio Board of Regents recommended an independent school be established in Toledo. Legislation creating the college won approval in the Ohio General Assembly and the governor's authorization.
Paul Block, Jr., was elected the first chairman of the MCO board of trustees.
"He stood for standards. He stood for excellence of academic instruction," said Allan Block, himself a former MCO board member.
Building MCO
Upon its creation, the college became the nation's 100th medical school and the fourth in Ohio.
Farm land off Arlington Avenue that had been part of the Toledo State Hospital was acquired by MCO.
John Robinson Block recalled his father taking him to the site. "We looked at corn fields and corn towering above me … and he said, 'This is where there will be a medical school.' As a child, it seemed amazing."
He accompanied his father to Troy, Mich., where they met with the principles of the architecture firm Minoru Yamasaki & Associates, whose work included New York's World Trade Center. Paul Block, Jr., wanted a top architect to design the campus, and he admired the architect's talent and quiet temperament, John Robinson Block said.
The MCO campus plan focused on a "humanistic design" with an open-air atmosphere and enclosed walkways connecting buildings. Mr. Yamasaki's firm also designed the first structure, the Health Science Building, which later would be renamed for Paul Block, Jr.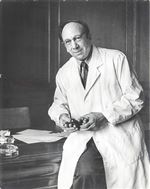 Paul Block, Jr., shown with a model of a thyroid compound, was a research chemist who understood the importance of biomedical research, a chief reason he supported the formation of a medical college. Gov. James Rhodes credited Mr. Block as a '‍moving force' behind the establishment of Toledo's medical college.
THE BLADE
Enlarge | Buy This Image
MCO was still a fledgling institution when Dr. Ronald McGinnis graduated as a member of the class of 1977. The first medical students started classes in 1969.
He found the college warm and inviting — the reason he chose to attend a school that had been started only a few years before he arrived on campus.
"People were so darn friendly and accommodating back in those days, and they still are," Dr. McGinnis said.
He is serving as the interim dean of the college of medicine and life sciences as UT conducts a search to replace its former chancellor, Dr. Jeffrey Gold, who left months ago to head the University of Nebraska Medical Center.
In the late 1970s, Dr. Mary R. Smith, a hematologist, visited the campus with her husband, Dr. Hollis W. Merrick. The two, who met at McGill University in Montreal, were looking for jobs and wanted to live near water. A friend told them about a new medical school in Toledo.
"There were three buildings on what the campus is now," Dr. Smith recalled. "There was something magical about this place when we interviewed here."
She remembered being shown a spot of bulldozed land. It was to be the hospital.
They took a leap of faith and joined the MCO faculty, finding the college receptive to their ideas. Dr. Smith liked how everyone kept their office doors open, and she connected with the students, many of whom were from the region.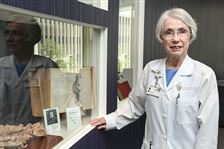 Dr. Mary R. Smith, a hematologist, has spent 37 years teaching and working with the medical college. She and her husband joined the MCO faculty at the same time and found the college receptive to their ideas.
THE BLADE/KATIE RAUSCH
Enlarge | Buy This Image
A medical merger
When MCO merged with UT in 2006, Dr. Smith viewed it as a "win-win": The university added a medical school, and MCO had a football team to cheer.
The proposal received fairly broad support, said William McMillen, a former UT provost who worked on the merger legislation.
Joining the two institutions allowed them to better share and enhance programs and be more efficient. Leaders at both were willing to cooperate and compromise, said Mr. McMillen, chairman of the 50th anniversary planning committee.
UT was still a city-supported institution when the Medical College was established by the state, one reason it was founded independently.
The country's best hospitals are connected to multifaceted universities, Dr. Jacobs said.
"I think it's done exactly what we hoped to do ... created great synergy [and a] tremendous amount of energy," he said.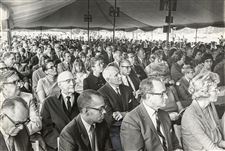 Hundreds attended the dedication ceremony for the Medical College of Ohio in Toledo in September, 1969.
THE BLADE
Enlarge | Buy This Image
The future
Looking ahead, Dr. Jacobs acknowledged the trend to consolidate health-care institutions. He believes hospitals, such as the 211-bed University of Toledo Medical Center, formerly the MCO Hospital, that are part of educational institutions will be "in a stronger position" in the current climate.
Officials continually evaluate potential affiliations and partnerships with other organizations, said Dr. McGinnis, who thinks such relationships are more likely to take place than outright purchases. He pointed to the legal battle between the Federal Trade Commission and ProMedica over the health system's acquisition of St. Luke's Hospital.
"If you look within our community right now, I think it's going to be very difficult for one of the major players to own another one because it's all very tied up in this competitiveness, if you will, that you have to have good competitiveness within a geographic area or you get accused of price-setting," he said.
Excellence will be the key to a successful future, said Allan Block, adding it can be attained with ambition and great leadership even with more modest financial resources than bigger medical colleges.
Allan Block and John Robinson Block are honorary co-chairmen of the 50th anniversary steering committee. Both recalled their father's strong interest in forming the institution that is now 50 years old.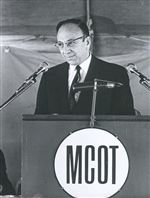 Paul Block, Jr., who served as the first chairman of the MCO board of trustees, speaks at the formal dedication ceremony for the college.
MEDICAL COLLEGE OF OHIO/UNIVERSITY OF TOLEDO Enlarge
"It was like an invisible member at our dinner table every night," John Robinson Block said. "This was really important to him."
That long-ago effort and vision of early supporters resulted in a college of medicine and life sciences that now employs 877 faculty and staff members and enrolled 1,158 students in fall of 2013 in its medical school and other degree programs.
At Friday's commencement, 250 students will receive degrees in medicine, public health, biomedical sciences, and occupational health.
Students today are drawn to the Toledo medical college for some of the same reasons that Dr. McGinnis was attracted decades ago to a much smaller campus.
"I feel like most of the people when I came and interviewed were just really nice and helpful," said fourth-year medical student David Warden.
He liked it enough to recommend Toledo's medical college to his brother, who is now a first-year student.
The legacy continues.
Contact Vanessa McCray at: vmccray@theblade.com or 419-724-6065, or on Twitter @vanmccray.
Guidelines: Please keep your comments smart and civil. Don't attack other readers personally, and keep your language decent. Comments that violate these standards, or our privacy statement or visitor's agreement, are subject to being removed and commenters are subject to being banned. To post comments, you must be a registered user on toledoblade.com. To find out more, please visit the FAQ.