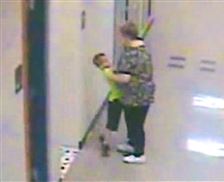 A Riverdale teacher, Barb Williams, has been suspended for 10 days after a security camera showed her pushing the student against a wall and then lifting him up by his shirt and face.
WTVG-TV, 13ABC Enlarge
MOUNT BLANCHARD, Ohio — A Riverdale School District teacher caught on camera using force against a kindergartner has been charged with misdemeanor child endangerment.
The student's family, however, is not satisfied, and their attorney called the decision not to charge the teacher with a felony "outrageous."
Barb Williams was charged in Findlay Municipal Court. Ms. Williams, who has been a teacher in the district for 15 years, was seen pushing around 6-year-old Ian Nelson on May 7 in school surveillance footage.
The video, which showed her confronting the student, pushing him against a wall, and then lifting him up by his T-shirt and face, gained national attention.
According to a summary report of the incident written May 8 by Julie Spade, who is the elementary school's principal, three cooks provided information about the incident that they overheard while on their break.
They reported hearing Ms. Williams "speaking very harshly" to the boy, and wrote down statements that they heard her say, including "I am sick of you," "I am sick of your parents," and "I will rip you apart."
Ms. Williams was suspended for 10 days beginning May 14 and will not return to the classroom this school year. Superintendent Eric Hoffman would not comment Monday on Ms. Williams' status with the district, or if he plans to recommend further discipline.
The child endangerment charge is a misdemeanor of the first degree, which carries a maximum penalty of 180 days in jail and a $1,000 fine. The charge was filed on Friday.
The state Board of Education can pursue disciplinary action against teachers for a variety of reasons, including felonies, misdemeanor sex offenses, violence offenses, thefts, and drug abuse.
Attorney Dan Margolis, who was hired by Ian Nelson's family, said the family believed Ms. Williams should have been charged with felony child endangering, assault, aggravated menacing, and felony abduction.
"For some reason, the prosecutor doesn't believe that this case has the same gravity that I believe it has, the Nelson family believes it has, and the rest of the United States of America believes that it has," Mr. Margolis said.
He said the family believes the decision to charge Ms. Williams with a misdemeanor shows the Findlay prosecutor's office is not taking the matter seriously.
Findlay Assistant Law Director Alan Hackenberg said city prosecutors can't file felony charges.
"We brought the most serious and significant charges we could file," he said.
Toledo-area attorney Jay Feldstein, who represents Ms. Williams, declined to comment on the charge, saying he and his client will respond in the courtroom. Ms. Williams had not be served with the charge as of Monday afternoon, he said.
Contact Nolan Rosenkrans at: nrosenkrans@theblade.com or 419-724-6086, or on Twitter @NolanRosenkrans.
13abc.com Toledo (OH) News, Weather and Sports
Guidelines: Please keep your comments smart and civil. Don't attack other readers personally, and keep your language decent. Comments that violate these standards, or our privacy statement or visitor's agreement, are subject to being removed and commenters are subject to being banned. To post comments, you must be a registered user on toledoblade.com. To find out more, please visit the FAQ.