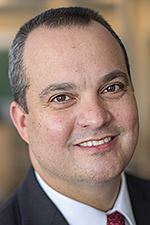 Barros
The University of Toledo has named a law professor and associate dean from Widener University as dean of its College of Law.
Benjamin Barros, 45, said the UT law school has a strong reputation, in particular for student outcomes, and has an "outstanding" faculty. He will start July 1, succeeding current Dean Daniel Steinbock.
"I think the College of Law is a little bit undervalued in terms of prestige," he said.
The Philadelphia area-based Widener University has four campuses, with its School of Law based at two of them: Delaware and Harrisburg, Pa. Mr. Barros taught out of the Harrisburg campus.
Mr. Barros previously worked as an attorney at the law firm Latham & Watkins LLP, and before that at Debevoise & Plimpton, both in New York. He previously taught at Fordham University in New York and Catholic University in Washington.
He became an associate professor in 2004 at Widener, earning tenure in 2010. He was awarded a full professorship in 2013, and was made associate dean for faculty research and development in 2011. Mr. Barros is currently associate dean of academic affairs in the School of Law.
He received a bachelor's degree from Colgate University and a law degree from Fordham, as well as a master's from the University of Maryland.
John Barrett, UT's interim provost, lauded Mr. Barros' experience as a law professor and work at private law firms. Mr. Barros has been published numerous times, with a focus on property law.
"As dean, Ben will bring with him innovative educational approaches that respond to the changes in the legal profession, and ensure our law graduates continue to leave UT a step ahead of their peers as they pursue employment," Mr. Barrett said in a written statement.
The UT law school was second in Ohio and Michigan schools last year for passage rate of students who took the bar exam for the first time, and has had consistently high rates in recent years.
Mr. Barros said student success is his highest priority, so continuing the trend of bar passage rates will be a focus. While the law school hasn't fared as well on commonly used "prestige rankings," such as those put out by U.S. World News and Report, that publication's rankings are starting to use student outcomes more in its formula, which could benefit the Toledo school, Mr. Barros said.
He wants to continue focus on job placements for graduates, citing increased internship opportunities as one way to help students find work in the legal field. Mr. Barros also said he plans to be an active member in the Toledo-area legal community.
He will be paid $240,000 annually.
Mr. Steinbock was named interim-dean in 2010; the position was made permanent the next year. He had received a three-year contract, but stayed on an additional year while the university conducted a national search to find his replacement. He will go on sabbatical for an academic year, then return as a faculty member in the law school, a university spokesman said.
Contact Nolan Rosenkrans at: nrosenkrans@theblade.com or 419-724-6086, or on Twitter @NolanRosenkrans.
Guidelines: Please keep your comments smart and civil. Don't attack other readers personally, and keep your language decent. Comments that violate these standards, or our privacy statement or visitor's agreement, are subject to being removed and commenters are subject to being banned. To post comments, you must be a registered user on toledoblade.com. To find out more, please visit the FAQ.