William Ploughe, center, answers a question during a support class in the Defiance College's ASD Affinity Program for college students with autism.
The Blade/Amy E. Voigt
Enlarge | Buy This Image
DEFIANCE — Rebecca Zebrowski wanted to know what made her college students mad.
What were their pet peeves? What stressed them out?
They responded with a flurry of frustrations, among them phone yelling and loud singing. That specific irritation landed with a thud of recognition on the other side of the table, around which the Defiance College students sat.
"I don't even know that I sing loud until someone tells me to shut up," exclaimed Amanda Mohawk, a vivacious freshman from Wisconsin who is studying criminal justice and forensic science.
It was the opening her teacher needed.
IN PICTURES: Defiance College's ASD Affinity Program
"That's part of the difficulty of these triggers. Some of them are things that we love to indulge in and some of that drives someone else nuts, right?" Miss Zebrowski said.
Her classes on independent living and social skills are just one component of a fee-based program for students with autism spectrum disorder offered by the private, liberal arts college located about 60 miles southwest of Toledo.
Stephan Beasley, of Columbus, listens to the discussion during a support class in the Defiance College's ASD Affinity Program for college students with autism on November 19, 2015.
The Blade/Amy E. Voigt
Enlarge | Buy This Image
The ASD Affinity Program helps its nine participants overcome obstacles that might stand between them and a college degree. It is among a growing number of initiatives offered by colleges to provide support to students with autism.
One in 68 children has been identified with the developmental disability that can cause social and behavioral challenges, according to an estimate from the Centers for Disease Control and Prevention. A government survey released earlier this month shows the number could be even higher.
"Many more students are potentially college-bound then they used to be… but the social aspects of college may be what hangs a student up," said Linell Weinberg, executive director of the Toledo-based Autism Society of Northwest Ohio. "They do fine academically. It's socially, getting those internships, navigating campus, dating… all those types of things are tough."
Defiance's effort to attract students with autism grew out of the college's Hench Autism Studies Program, which started in 2007 and includes an undergraduate minor in autism studies, a summer camp for adolescents with ASD, and an on-campus classroom for high schoolers with ASD.
The affinity program launched last year with five students, four of whom re-enrolled this year. Participants must meet Defiance's admission requirements, with an ACT score of at least 18; have a documented ASD diagnosis; be able to administer any medication and stay overnight on their own; and have no incidents of aggressive or self-harm behavior in recent years.
"This program is not meant to isolate our students or make them feel like they need special supports," said Miss Zebrowski, program coordinator. "They could probably survive without us, but they wouldn't have a good time."
Participants appreciate the learning and social environment.
"It makes me feel like I can talk to anyone without... feeling like, 'OK, are they going to avoid me?' because I only had a certain number of friends in high school because people would avoid me or treat me very differently because I had autism. So it makes me feel a lot more like home here," said Ms. Mohawk.
The nine students live in the same residence hall along with a resident assistant. The accommodations are much like those for other students except for a few unique touches. A cabinet in the lobby is stocked with pots and pans students can borrow as they learn to cook, a life skill some work on with peer mentors.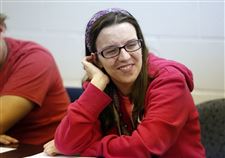 Emma Bedan, of Cincinnati, listens during a support class in the Defiance College's ASD Affinity Program for college students with autism.
The Blade/Amy E. Voigt
Enlarge | Buy This Image
Each affinity student is paired with two mentors and one tutor, all of whom are fellow Defiance students.
Mentors, such as Noelle Chester, a junior from West Unity, Ohio, work with the students on social aspects of college life. She spends hours each week with her mentees. Recently, she tie-dyed shirts with a student during a homecoming event and showed a mentee where to look up recipes online.
"Most of them that I work with are involved with more things on campus than I am," she said.
Peer tutors spend about 10 hours a week with students in the program. They teach study skills and note-taking techniques, and help students prioritize assignments. If needed, they can connect a student to a content tutor who will help with specific academic subjects.
Derek Lucas, a tutor from Eaton, Ohio planning a career in special education, works with students on organization skills and helping them communicate with professors.
"Some have struggled with, 'How do you talk to someone with authority?'" he said.
The program also provides parents with monthly reports on their child's progress.
The tight-knit school of about 1,000 students offers parents of program participants assurance that someone is in regular contact with their children, though the college doesn't provide continuous supervision, said Clarissa Barnes, assistant professor of special education and the Hench program director.
Becky Ploughe of Montpelier, Ohio said her son, William, followed advice to focus on his studies so literally that he would hang up if she called while he was studying. Mrs. Ploughe said she's developed relationships with staff and faculty, whom she can ask to tell her son to call home.
He was diagnosed at age 12 and home-schooled, and then went to a community college before starting at Defiance last year.
A yearly goal that student Emma Bedan wrote and posted on the wall in the common space with the other students in the Defiance College's ASD Affinity Program on November 19, 2015.
The Blade/Amy E. Voigt
Enlarge | Buy This Image
"We were looking for some ways we could be assured that he could be as independent as he could be and be able to support himself in the best way possible, and this just seemed to be the perfect fit," she said.
Those accepted into the program pay an additional fee of $15,000 a year on top of Defiance's $30,400 annual tuition, plus room and board. Many students receive financial aid to defray some of their educational costs, officials said.
Programs that offer special support to students with autism are popping up at colleges across the country. Marshall University in West Virginia runs a well known program established in 2002. A six-year-old program at Eastern Michigan University is projected to grow from 23 students to 30 or 35 students next fall.
"Universities are taking notice and providing additional supports for our students," said Wainie Youn, a spokesman for the Maryland-based Autism Society.
There's no national standard for such programs, she said, though many feature one-on-one assistance.
The individual attention offered at Defiance is obvious during Miss Zebrowski's class, required for program participants but not taken for credit. She shares an easy rapport with her students, and they speak favorably of the program.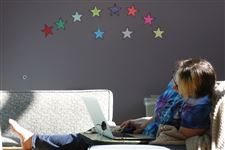 ASD Affinity Program student Amanda Mohawk reclines in the lounge of her dormitory and watches the SyFy channel and studies before heading to class.
The Blade/Amy E. Voigt
Enlarge | Buy This Image
Mentors and tutors help Alisa Pescosolido of Lima stay on top of her studies. The help comes without judgement.
"I can't sit still for long periods of time, and sometimes I just have to get up," said the sophomore who is majoring in social work. "I walk in circles because that's just what works for me, and a lot of times people stare at me, but my peer mentors are really good about it."
Like any other freshman on campus, college gave Nicholas Eberly of Columbus a fresh chance.
"We can start all over… to make a better first impression, a better way of life than like what we did in high school," he said.
Contact Vanessa McCray at: vmccray@theblade.com or 419-724-6065, or on Twitter @vanmccray.
Guidelines: Please keep your comments smart and civil. Don't attack other readers personally, and keep your language decent. Comments that violate these standards, or our privacy statement or visitor's agreement, are subject to being removed and commenters are subject to being banned. To post comments, you must be a registered user on toledoblade.com. To find out more, please visit the FAQ.