VAN WERT, Ohio — A rural northwest Ohio school district will become the center of the national education discussion Thursday when U.S. Education Secretary Betsy DeVos and the president of the American Federation of Teachers visit Van Wert City Schools.
Ms. DeVos will spend much of the day in Van Wert, the 10,846-population city about 95 miles southwest of Toledo. She will be joined by one of her sharpest critics, Randi Weingarten, president of a union that represents 1.6 million members.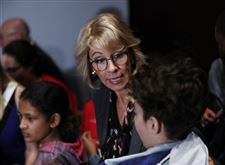 DeVos
ASSOCIATED PRESS Enlarge
It is the first joint appearance for the two, whose clashing ideas about public education have put them at opposite political ends.
"I look forward to visiting the students, parents, and educators of Van Wert. Every parent should be able to send their children to a school that meets their unique needs, and for many parents, that is a public school. I support and celebrate all great schools," said Ms. DeVos, in a written statement.
After President Trump announced he would nominate the staunch charter school advocate for the education post, Ms. Weingarten joined a chorus of public school advocates concerned about Ms. DeVos' educational policies and classroom inexperience.
Teacher unions were among those who worked vigorously and unsuccessfully to stop Ms. DeVos' confirmation.
Jeff Hood, a Van Wert health and physical education teacher and president of the 127-member Van Wert Federation of Teachers, came home Feb. 7 — the date of the secretary's narrowly won confirmation — and joined a town hall-style phone call hosted by AFT. He got a chance to ask Ms. Weingarten a simple question: How could he get Ms. DeVos to visit his school district?
"I'm 55 years old. I have watched how American politics have evolved and how sometimes as constituents we don't have a whole lot of control," Mr. Hood said. "I thought, 'Here we go; Mrs. DeVos is now our secretary of education' and you know the best way for me to join in the conversation is to see how I can personally invite her to come to Van Wert."
Ms. Weingarten said she'd make sure the new secretary got the invitation and also promised to make a trip to northwest Ohio herself, according to Mr. Hood.
On Thursday, the two are scheduled to spend hours together touring classrooms, meeting with teachers and students, and holding an afternoon news conference.
The day includes a roundtable discussion featuring kindergarten and preschool teachers, a tour of a classroom where students will show off engineering and robotics projects, a stop in a fifth grade class, and another roundtable talk with about a dozen district employees who work in special education.
Mr. Hood is eager to highlight the 2,200-student district's unique programs that succeed even though many students live in rural poverty.
"We have beautiful buildings. We give our kids a great education, but we have a lot of challenges," he said. "We're an older town, a county-seat town. We've had our share of industry leave. We've had a hard time getting industry to come in."
There's not too much school choice in Van Wert, he said, where a small Catholic elementary school is the only alternative to traditional public schools.
Superintendent Ken Amstutz said the secretary will stop at all of the district's school buildings, and officials are excited about the opportunity to host the high-profile guest.
"We feel like we do a very good job every day," he said. "We work very hard every day. We just roll up our sleeves."
Van Wert has received mixed results on its most recent Ohio report card, including an A from the state for its 96 percent four-year graduation rate and a D in the category that measures how many students passed state tests and how well they scored on them, an area where many districts have floundered as tests change and become more rigorous.
Van Wert County, which borders Indiana, tilts heavily Republican. President Trump received 10,328 votes to Democratic nominee Hillary Clinton's 2,667 votes in the November election.
Diverting money "to the point where it hurts public schools" doesn't help places like this, Mr. Hood said.
"The people who put Donald Trump in office live in Van Wert County, and they live in all the other 'Van Werts,'" Mr. Hood said. "Charter schools and private schools and vouchers are not going to mean much to people in Van Wert."
There are stark differences between the education secretary and union president, but he wants the focus of the visit to be on the school system.
"When it comes to children, I'd like to see politics put aside," he said. "We are talking about our nation's educational system and Van Wert City Schools, and I really don't care what side of the aisle anybody is on Thursday. We want to show some educational leaders that we are doing a good job with what we have, and we should be proud of it."
Contact Vanessa McCray at: vmccray@theblade.com or 419-724-6065, or on Twitter @vanmccray.
Guidelines: Please keep your comments smart and civil. Don't attack other readers personally, and keep your language decent. Comments that violate these standards, or our privacy statement or visitor's agreement, are subject to being removed and commenters are subject to being banned. To post comments, you must be a registered user on toledoblade.com. To find out more, please visit the FAQ.