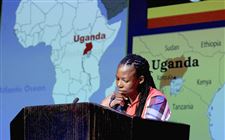 Jay Mulucha of Uganda, a transgender man, talked of his struggle with suicidal thoughts after he was attacked in Uganda. Instead, he took to activism, he said at BGSU.
THE BLADE/LORI KING
Enlarge | Buy This Image
BOWLING GREEN — Jay Mulucha contemplated suicide while in the hospital after he was attacked and nearly killed while rallying for lesbian, gay, bisexual, and transgender rights.
The transgender man recently relayed his story at Bowling Green State University. But he suffered the violence while living halfway around the world.
Mr. Mulucha is Ugandan, and his homeland in sub-Saharan Africa is known for conservative acceptance of only traditional forms of gender and sexuality.
But as Mr. Mulucha was lying in a hospital bed, contemplating the end, he made a fateful decision.
"I asked myself 'who will stand up against all this hate, discrimination, and torture for the LGBT community?' I refused to quit," Mr. Mulucha said.
They came from Uganda, Nigeria, Sudan, and beyond, young men and women from Africa who brought stories of great hardship and personal triumph to northwest Ohio.
Mr. Mulucha and 24 others shared those stories recently on the campus of Bowling Green State University. The school this month is playing host to the Mandela Washington Fellowship for Young African Leaders.
The program is a U.S. State Department effort to bring Africa's best and brightest young leaders to the United States in the hopes that they can find inspiration here that will help them tackle the issues confronting their communities at home.
"This is a really good way for the city and region to create bonds with the future leaders of Africa," said Christopher Frey, BGSU's co-director of the Fellowship and professor in the College of Education and Human Development.
"It helps all of us exchange different ways of seeing things and solving problems," Mr. Frey added.
The fellows came from a wide disciplinary range. Experts in education, community development, and war relief all took part. Sudanese native Amna Omer spoke about an issue to which residents of the Great Lakes region can undoubtedly relate: water conservation.
But the researcher and nonprofit leader explained that she possesses a particularly intimate connection to the life-giving resource. Growing up in Sudan she used to carry 10 liters of water for her and her sister every day on their way to school.
"I was one of the luckiest girls in Sudan," Ms. Omer said. "I only had to carry 10 liters of water and go to school. There were girls that carried four times that amount, worked all day, and couldn't go to school like me."
BGSU, Ohio State University, and Case Western Reserve University were chosen among 40 universities in the United States, hosting a total of 1,000 fellows this summer.
It's the first time BGSU is participating in the program. University officials said they believe BGSU's focus on civic engagement and its history of hosting international programs led to the institution's inclusion in the program.
The BGSU fellows are visiting various sites in Toledo and other cities, such as Cleveland, Chicago, and Detroit.
They also meet community partners around Toledo such as the United Way, Adelante, Sofia Quintero Art & Cultural Center, and Children's Hunger Alliance.
Fellows said the program helped them realize the need to work together and help others, because such empathy and activism often lead to the most rewarding gains.
"If you wish to go fast then go alone, if you wish to go far then go with people. So do we want to go fast or far?" Nigerian Chibuzur Azuike said.
Contact Valentin Ornelas, Jr., at: vornelas@theblade.com or 419-724-6050.
Guidelines: Please keep your comments smart and civil. Don't attack other readers personally, and keep your language decent. Comments that violate these standards, or our privacy statement or visitor's agreement, are subject to being removed and commenters are subject to being banned. To post comments, you must be a registered user on toledoblade.com. To find out more, please visit the FAQ.