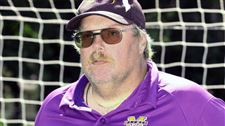 Maumee High School soccer coach Doug Everhart.
Longtime Maumee High School boys soccer coach Doug Everhart died Tuesday night at his home. A cause has yet to be determined.
Mr. Everhart coached the Panthers for nearly 20 years, and also ran Maumee's youth soccer programs.
"Doug was one of those people who liked to talk to everybody," assistant coach Chris West said. "He had breakfast with all the referees, knew all the coaches in the area. He was just one of those larger than life personalities."
The staff met with current players at the school Wednesday morning, and counselors are available. A candlelight vigil was held at Wednesday night at Rolf Park in Maumee.
Guidelines: Please keep your comments smart and civil. Don't attack other readers personally, and keep your language decent. Comments that violate these standards, or our privacy statement or visitor's agreement, are subject to being removed and commenters are subject to being banned. To post comments, you must be a registered user on toledoblade.com. To find out more, please visit the FAQ.