Former Washington Local Schools' Superintendent Patrick Hickey is still banned from district property, but will be seated on the school board after other members voted Wednesday to temporarily move board meetings off campus.
Wednesday's meeting was raucous at times, with shouts from the crowd, standing ovations, and strong feelings all around. Allegations of inappropriate conduct by Mr. Hickey dominated the public comment portion.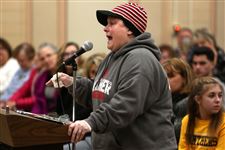 Former Addison student Kristina Hassenzahl makes a tearful public comment regarding Patrick Hickey during the Washington Local school board meeting.
The Blade/Kurt Steiss
Enlarge | Buy This Image
A motion by Mark Hughes to hold meetings off site for several months so that Mr. Hickey could attend failed after it was not seconded, but the board at the end of the meeting revoted and unanimously decided to move meetings so Mr. Hickey could attend.
It was a sharp turnaround, with opponents of Mr. Hickey at first thinking they had prevailed — temporarily — from allowing him on the board, only to have the vote flip within hours.
RELATED: Hickey uses public notary to swear himself in
Battle lines are now drawn in the community, with opponents and supporters of the former superintendent turning out in force at board meetings, running public and private pressure campaigns on board members, and sniping at one another online and in person.
At Wednesday's meeting, however, the most vocal input by far came from those who oppose Mr. Hickey being allowed on district property.
Mr. Hickey resigned as Washington Local's superintendent in December, 2015, shortly before the school board could consider a resolution to fire him because of 37 charges compiled by a board-hired law firm. Those charges included allegations he failed to inform the district that he left Addison Community Schools in Addison, Mich., in 1990 after accusations surfaced that he had inappropriate relationships with students.
Residents of Washington Local and former students and staff of Addison Community Schools spoke out to implore the board not to lift the ban.
Patrica Carmean, former board member, points to the values on the wall in the room while making public comment during the Washington Local school board meeting.
The Blade/Kurt Steiss
Enlarge | Buy This Image
Among the most vocal speakers were the Addison Schools people who addressed the Washington Local board during the public comments section.
The most emotional speech to the Washington Local board on Wednesday came from Kristina Hassenzahl, who wept as she said she was a student of Mr. Hickey and played on the girls' basketball team in Addison when he was coach.
She told the board she was 14 when Mr. Hickey "groomed me sexually."
During the board's executive session to discuss Mr. Hickey's ban, Ms. Hassenzahl added to a Blade reporter that Mr. Hickey made repeated sexually suggestive comments to her when she was a teenage student, and even though he did not have sex with her, she said she felt guilty for not coming forward sooner.
"I kept my mouth shut because who was going to believe us?" she said to the board. "Who was going to believe a 14-year-old?"
Ken Mullin, who was the Addison athletic director when Mr. Hickey left that district, also addressed the Washington Local board. Mr. Mullin said he was told by the Addison principal at the time that Mr. Hickey was asked to either resign, or was told he would be prosecuted.
He said he spoke to him in 1990 when he was cleaning out his office, and Mr. Hickey told him then "I want you to know it wasn't all my fault."
Jim Driskill, an Addison school board member and a Lenawee County commissioner, told the board he taught across the hall from Mr. Hickey at Addison High School, and had to watch over his classroom when Mr. Hickey left mid-school year in 1990. Mr. Hickey said on his application to Washington Local he left Addison because his wife got a new job elsewhere, citing conversations he had with the principal of the school at the time, who died in 2016.
"He left because he was told either leave or you will be prosecuted for inappropriate relations with students," Mr. Driskill told the Washington Local board. "My daughter would have never, ever played for Patrick Hickey in high school basketball."
Brooke Kelly, who was also on the Addison girls' basketball team, told the board that she and her mother followed Mr. Hickey after a basketball game in 1990, and saw his car pull into a cemetery where a teammate had parked in her own car. She said soon after, one of the cars began to shake.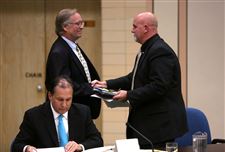 Former board president David Hunter, left, shakes new board president Thomas Ilstrup's hand during Wednesday's meeting of the Washington Local school board.
The Blade/Kurt Steiss
Enlarge | Buy This Image
She said she didn't want to do anything at the time out of fear, but her mother pressed the issue with the district, and soon after Mr. Hickey was gone from Addison.
"Thank god my mom didn't listen to me," Ms. Kelly told the board.
Ms. Kelly has told an identical story to Blade journalists and other media members for several years.
The separation agreement between Mr. Hickey and the district limits his access to district property for events other than those related to his children, although the superintendent or board president can waive that restriction. The board then banned him from all district property after an altercation between Mr. Hickey and school officials at a basketball game.
Former board members spoke out, and told the new board to keep the ban. Residents who attended a meeting last month reiterated their call for the ban to stay.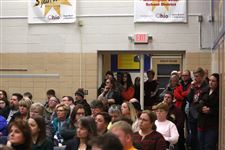 People stand in the doorway to listen during the Washington Local school board meeting Wednesday.
The Blade/Kurt Steiss
Enlarge | Buy This Image
Andre Cowell, a Toledo police investigator and Washington Local resident, referenced the recent arrests of pastors accused of the sex trafficking of minors, and said he was concerned he would be sending his children to a district partially led by a man accused of similar things.
Before Wednesday's meeting, Mr. Hickey's former assistant, Sharon Giles, swore Mr. Hickey into office at the Washington Local library branch. According to guidance by the Ohio School Boards Association, notaries public — of whom Ms. Giles is one — may administer oaths of office in Ohio.
Mr. Hickey sat in a car outside the Washington Local administration office for at least part of the meeting. He told a Blade reporter he wouldn't speak to him on the record, but Mr. Hickey has denied such allegations in the past.
Wednesday's meeting followed one last month, when the outgoing board voted to keep Mr. Hickey's ban in place. But with a new board seated on Wednesday, supporters and opponents of Mr. Hickey turned out in force again.
Mr. Hickey's absence was immediately felt when board officers were elected, as the board was deadlocked 2-2 when voting for president between current board president Dave Hunter and board member Lisa Canales. The deadlock caused groans and shouts from the crowd on both sides, but eventually former president Tom Ilstrup was nominated and elected unanimously.
Contact Nolan Rosenkrans at nrosenkrans@theblade.com, 419-724-6086, or on Twitter @NolanRosenkrans.
Guidelines: Please keep your comments smart and civil. Don't attack other readers personally, and keep your language decent. Comments that violate these standards, or our privacy statement or visitor's agreement, are subject to being removed and commenters are subject to being banned. To post comments, you must be a registered user on toledoblade.com. To find out more, please visit the FAQ.