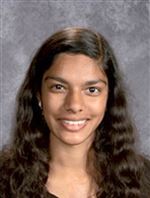 Janaki Patel
FAVORITES:
School Subject: Math
Extracurricular Activities: Girl Scouts, band, National Honor Society, Interact Club
Hobbies: Reading, anything outdoors, volunteering
Car: the 262,000 mile Toyota Camry I drive
FAST FACTS:
Last Book Read That Wasn't Required: Wonder
Person Most Admired: My siblings
Item always in your locker: Playing cards
First Job: Rehab Dynamics Summer Camp Assistant
Top Accomplishment: Jefferson Award for Public Service
FUTURE:
After Graduation Plans: Attend college with a pre-Occupational Therapy focus and later complete a doctorate in that field
Career Goal: Occupational Therapist
Quote from teacher: "Janaki was an exceptional student in AP American Government and politics class," said Justin Zemanski, social studies teacher. "She arrived to class promptly, participated in a prepared manner, and performed at an incredibly high level. Janaki is always in a pleasant mood and is well-respected by her peers. She demonstrated her leadership skills by participating this fall in the Girl Scouts National Convention. It was truly an honor to have Janaki Patel as a student this past fall."
- Information is compiled for The Blade by the Educational Service Center of Lake Erie West.
Guidelines: Please keep your comments smart and civil. Don't attack other readers personally, and keep your language decent. Comments that violate these standards, or our privacy statement or visitor's agreement, are subject to being removed and commenters are subject to being banned. To post comments, you must be a registered user on toledoblade.com. To find out more, please visit the FAQ.