40.06174
-94.76473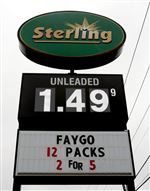 Unleaded self-serve sells for $1.49 a gallon at station on Central near McCord.
Allan Detrich / blade Enlarge
Tumbling world crude-oil prices are showing up at Toledo-area gasoline pumps, where prices yesterday were as low as they've been since late February.
"I love it," said Jason Thomas of Toledo after filling up his car with $1.479-a-gallon regular at the Shell station at Alexis Road and Lewis Avenue yesterday afternoon. "Keep on comin' down. I hope it's 99 cents by the end of the year." That might be a bit much to ask.
A Web site that tracks local gas prices in real-time nationwide showed that Toledo's average prices yesterday morning were more than 35 cents a gallon cheaper than they were on Thanksgiving and nearly 20 cents cheaper than they were just a week ago.
John Cogan, a spokesman for the federal Energy Information Administration, said the "biggest single factor" in declining pump prices is the price of crude, which went as high as $55.17 a barrel in late October but has fallen into the low $40s this week.
Mike Burdette, a senior analyst at the agency, said the crude price decline equals about 34 cents a gallon, and "all other things being equal, most of that should show up at the pump."
How long the price break will last is uncertain.
While the Organization of Petroleum Exporting Countries agreed yesterday to cut production by 1 million barrels a day starting next month, the price of crude declined yesterday to
$40.71 a barrel on the New York Mercantile Exchange - a four-month low - after bouncing upward for several days before the announcement.
Mr. Burdette said the crude price rebound occurred before OPEC ministers met because market players expected the cartel to announce a production cut. He said he was "a little surprised" that it went back down yesterday but predicted "a really rapid decline" in retail prices nationwide over the next couple of weeks.
As of Monday, the national average reported by the Oil Price Information Service in Wall, N.J., was $1.911 a gallon, while the Midwestern average was $1.832.
Market anticipation has been a factor in gasoline price changes throughout the year, according to an Ohio Price Information Service analysis. Low inventories and supply concerns triggered rising prices early this year, while fears about potential supply disruption in Iraq, Nigeria, Venezuela, Russia, and the Gulf of Mexico affected the market later on.
Yesterday's mercantile exchange closing price for U.S. crude futures was $1.82, or 4.3 percent, lower than Thursday's, and marked the first time U.S. crude ended a day below $41 since July 21. Al Younes, the owner of the Shell at Laskey and Alexis, said he lowered his prices because the wholesale price he pays went down 20 cents over the previous 10 days, and competitors were lowering their prices too. "It's been very crazy for the last five or six days," he said. "I want to be competitive on the street."
"It's a lot better than it was," said Domenic Maviglia of Monroe, who stopped at Mr. Younes' station on his way home to fill up with gas cheaper than he expected to find in Michigan.
The lower price was a pleasant surprise for Luanna Urbanski of Toledo, who pulled into the BP across the corner. She said she hadn't even looked at the signs because her tank was nearly empty and she just needed gas.
"It works for me," she said.
Information from Reuters was used in this report.
Contact David Patch at:
dpatch@theblade.com
or 419-724-6094.
Guidelines: Please keep your comments smart and civil. Don't attack other readers personally, and keep your language decent. Comments that violate these standards, or our privacy statement or visitor's agreement, are subject to being removed and commenters are subject to being banned. To post comments, you must be a registered user on toledoblade.com. To find out more, please visit the FAQ.