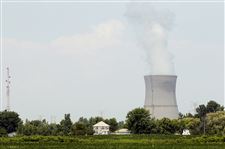 Davis-Besse is listed as one of a dozen plants most likely to close early be­cause of eco­nom­ics on a 2013 Ver­mont Law School re­port.
THE BLADE/JETTA FRASER
Enlarge | Buy This Image
Make no mistake: America's nuclear industry is in trouble.
Many of the strongest statements about it are no longer found in the hyperbole of anti-nuclear groups but in dire predictions from industry figures such as the Nuclear Energy Institute's Marvin Fertel, who said at a recent U.S. Department of Energy conference in Washington there's a "sense of urgency" to improve economics of the nation's 99 remaining nuclear plants.
If the playing field isn't leveled to account more for nuclear power's attributes as a low-carbon, high-output source of electricity, the industry could have as many as 20 more plants shut down prematurely over the next decade, he said.
Advocates say that would mean tens of thousands of jobs lost while jeopardizing national security with greater dependence on more intermittent energy sources such as wind and solar power.
"We need a much, much greater sense of urgency to address the issues that we're seeing right now," Mr. Fertel, the nuclear lobbying group's president and chief executive officer, said of rapidly changing market forces driven largely by an abundance of cheap natural gas to produce electricity, as well as a greater national push toward renewables.
They claim the market has become especially skewed during the modern era of hydraulic fracturing, or "fracking," of shale bedrock that the oil and gas industry has described as a game-changer in their industry. Drills moving horizontally can reach previously untapped reserves across the world.
"We thought the first shutdowns at Kewaunee and Vermont Yankee would galvanize actions to prevent additional shutdowns, and we were obviously mistaken," Mr. Fertel said.
Three years ago this month, the Kewaunee nuclear plant in Wisconsin became what is widely believed to be the nation's first plant shuttered because of economics. In 2014, the Vermont Yankee plant in New England followed. Since then, Energy Corp. has announced it will retire its FitzPatrick and Pilgrim nuclear plants in upstate New York and Massachusetts, respectively, by the end of the decade.
Exelon recently said it cannot continue to incur losses from its twin-unit Quad Cities and single-unit Clinton plants in Illinois much longer. This month, the Omaha Public Power District announced it would close its Fort Calhoun nuclear plant in Nebraska this year.
"These are not isolated events. We have a systemic problem," Mr. Fertel said. "This is a serious, systemic problem, and it requires action now."
Matt Bennett, senior vice president for public affairs of Third Way, a Washington think tank that claims to take moderate views on national issues, said he found Mr. Fertel's remark's "frightening."
But he said Americans need to acknowledge "the house is on fire."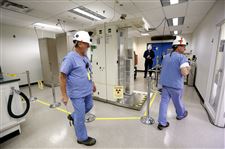 Technicians walk through the radiation protection check point at Davis-Besse nuclear plant. FirstEnergy Corp. has vowed to stick by its aging Davis-Besse and Perry plants.
THE BLADE/AMY E. VOIGT
Enlarge | Buy This Image
Davis-Besse's future
In this part of the country, FirstEnergy Corp. has vowed to stick by its aging Davis-Besse nuclear plant east of Toledo and its Perry plant east of Cleveland. DTE Energy likewise has no immediate plans to shut its Fermi 2 nuclear plant north of Monroe.
But Ohio and Michigan are among 13 states with deregulated electricity markets where nuclear plants have an especially hard time competing. Those with single units have even more difficulty, officials said.
A 2013 Vermont Law School report listed Davis-Besse as one of a dozen plants most likely to close early because of economics.
FirstEnergy's proposed power-purchase agreement with the Public Utilities Commission of Ohio has been criticized by opponents as a bailout because it would guarantee cash flow to the energy company for eight years. The deal is gaining attention nationally, according to Joseph Dominguez, Exelon executive vice president, who also said more subsidies for nuclear power may be necessary.
Iowa has a power-purchase agreement for its Duane Arnold plant. Industry officials also are seeking them for plants in New York and Illinois, he said.
Wind and solar power are attacked by pro-nuclear advocates these days because of their start-up subsidies.
But several years ago, a conservative group, Taxpayers for Common Sense, identified $85 billion in subsidies to nuclear power since 1948, of which more than $66 billion was spent on nuclear energy research and subsidies through 1998.
While Mr. Fertel blamed "dysfunctional market conditions" for threats to thousands of jobs and steady production of electricity, U.S. Energy Secretary Ernest Moniz said there's a lot more at stake.
Nuclear still provides almost 20 percent of the nation's electricity. But a lot of people don't realize it also accounts for 60 percent of the electricity today from low-carbon sources, he said.
Without as many nuclear plants operating, America will have a hard time achieving the commitment it made to other countries under last December's United Nations climate change treaty in Paris to reduce greenhouse gases 27 percent by 2025, Mr. Moniz said.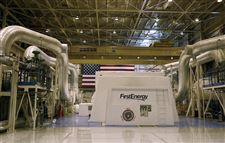 One of Davis-Besse's turbine generators is seen at center. Even though the plant was recently retooled, it won't have much of a future in the current energy market, industry experts say.
THE BLADE/AMY E. VOIGT
Enlarge | Buy This Image
Few new plants
The industry's hopes for a renaissance never materialized.
The Watts Bar 2 reactor in Tennessee is expected to become the nation's first new plant to come online since 1996, when Watts Bar 1 began operating. But Watts Bar 2 is the completion of a project that was suspended in 1985.
The industry expected 30 or more next-generation nuclear plants would be built after billions of dollars in incentives were offered by Congress in the Energy Policy Act of 2005. But those efforts have resulted in the construction of only four new reactors, the twin-unit Vogtle plant in Georgia and the twin-unit V.C. Summer plant in South Carolina.
That, according to Mr. Moniz, means the United States must get as much as it can out of the existing fleet. Many of the plants, though, will turn 60 years old around 2030 and they can't be expected to run indefinitely, he said.
"We are supposed to be adding zero-carbon sources, not subtracting or simply replacing them to tread water," Mr. Moniz said. "We need to prevent more closures and get on the trajectory of adding capacity."
Ironically, a rule many utilities are fighting — the Obama Administration's controversial Clean Power Plan to reduce greenhouse gases from coal-fired power plants — is becoming one of the potential tools for saving nuclear plants, Mr. Moniz said.
Keeping more nuclear around would help states comply with that rule, he said.
"We know the economics of building new plants isn't real good now," said U.S. Rep. Adam Kinzinger, an Illinois Republican whose 16th Congressional District has four nuclear plants and eight reactors, more than any other congressional district.
One suggestion for getting the market to better value nuclear's attributes is changing state renewable energy mandates to "clean energy standards" that would give utilities more incentives to invest in nuclear power.
Thirty states have renewable-energy mandates. Ohio lawmakers are deciding whether to keep their two-year freeze in effect indefinitely. The law passed in Ohio several years ago required 12.5 percent of the state's electricity come from renewables by 2025 and 12.5 percent from a combination of undefined clean coal and advanced nuclear.
Craig Glazer, vice president of PJM, the 13-state regional grid operator that includes Ohio, said market incentives are being created to reward high-performing, low-emitting energy sources — but not nuclear per se.
"If the goal is to just save nuclear, that's another goal," he said.
Mike Langford, Utilities Workers Union of America national president, said states with deregulated energy markets might have to be re-regulated to save nuclear plants and the thousands of workers they employ.
"This industry is too vulnerable to be left up to chance," Mr. Langford said. "Energy is the engine of our economy, and we're leaving it up to chance. It blows me away."
Contact Tom Henry at: thenry@theblade.com, 419-724-6079, or via Twitter @ecowriterohio.
Guidelines: Please keep your comments smart and civil. Don't attack other readers personally, and keep your language decent. Comments that violate these standards, or our privacy statement or visitor's agreement, are subject to being removed and commenters are subject to being banned. To post comments, you must be a registered user on toledoblade.com. To find out more, please visit the FAQ.