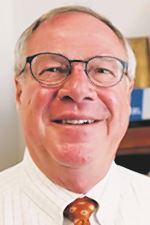 Collins.
THE BLADE
Enlarge | Buy This Image
The people have spoken — one-quarter of them, anyway. If Toledo Mayor-elect D. Michael Collins is tempted to interpret his thumping of incumbent Mike Bell in this week's election as a broad mandate, he might keep in mind that three out of four city voters cared so little about choosing the next mayor that they stayed away from the polls.
That evident lack of connection between Toledoans and their municipal government could be the biggest challenge that Mr. Collins will face over the next four years. It won't be the only one.
For now, Mr. Collins deserves congratulations for his come-from-behind victory. As in the September primary, he identified and mobilized his base, and got enough of those voters to turn out. As hard as that was, though, governing the city is likely to prove even harder.
Mr. Collins now must reconcile his campaign promises to cut the city income tax rate, hire 160 more police officers, and lower water bills for elderly ratepayers. He must show, not merely assert, that he can reduce city spending without creating other hardships for residents. He will have to be as willing to make tough budget decisions as Mayor Bell was at the start of his term.
During his acceptance speech Tuesday night, Mr. Collins promised a "new direction for change" that will "move our region forward." He will not achieve that, or capture jaded Toledoans' imagination, by staffing his administration with retreads and leftovers from previous city governments, however active such people were in his campaign. It's time for fresh faces and new ideas.
Even as The Blade supported Mr. Collins in the general election, we remain skeptical of his close ties to leaders of local unions, including the heads of city bargaining units — some with a history of intransigence — with whom he will have to negotiate labor contracts as mayor. Union support was largely responsible for his victory.
During a campaign debate last week, Mr. Collins insisted: "I am beholden to only one group of the people — the taxpayers — and the unions know that." But in his Election Night remarks at a union hall, he profusely thanked "my brothers and sisters in labor" and promised that "you will not be sorry."
Mr. Collins properly criticized Mayor Bell over the incumbent's support of union-busting legislation. But excessive fealty to organized labor in the mayor's office would serve Toledoans no better than needless hostility to unions.
Mr. Collins accepted The Blade's challenge to sign a clean-campaign pledge, including a commitment to repudiate any third-party advertising that smeared his opponent. Yet he refused to denounce a sleazy, nativist anti-Bell mailing and TV ad by a secretive group in Columbus, lamely arguing that the mayor had engaged in negative campaigning as well.
The cult of secrecy Mr. Bell pursued, on issues ranging from public safety to economic development, was his greatest failing as mayor. Mr. Collins' promise to run a more open, transparent administration will need to be made of sterner stuff.
Mr. Collins inherits a mess in the Neighborhoods Department, and especially in its frayed relations with the city's homeless shelters. Resolving that tension will provide an early test of his pledge to make Toledo "a better place for us all."
As a veteran member of City Council, Mr. Collins can, and should, pursue better, more open relations between the city's executive and legislative branches than Mayor Bell has done. He can, and should, be far less credulous than the incumbent has been of would-be developers of city-owned property who are, in Texas argot, all hat and no cattle.
Mr. Collins won with the votes of about 28,000 Toledoans. Four years ago, Mr. Bell's opponent, Keith Wilkowski, got nearly 5,000 more votes than Mr. Collins did this week — and lost.
Some smug Toledoans like to tell themselves and others that, well, we aren't Detroit. It's worth noting that voter turnout for the mayoral election in that city this week was much higher than in 2009. So on this matter at least, Toledo needs to pick on somebody else.
Comparisons with the Motor City are the least of Mayor-elect Collins' concerns. His success will depend on his ability to combine a broad vision for the city with tough-minded leadership, in a way that boosts the morale of Toledoans — and their perception of the value of city government in their lives.
Guidelines: Please keep your comments smart and civil. Don't attack other readers personally, and keep your language decent. Comments that violate these standards, or our privacy statement or visitor's agreement, are subject to being removed and commenters are subject to being banned. To post comments, you must be a registered user on toledoblade.com. To find out more, please visit the FAQ.