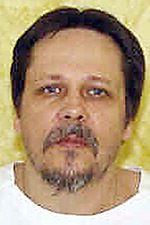 McGuire
AP Enlarge
What happened Thursday morning at the Southern Ohio Correctional Facility in Lucasville has shamed Ohio to the nation and world.
Executed with a drug combination never tried before in the United States, 53-year-old Dennis McGuire took more than 15 minutes to die, as he convulsed, gasped, and snorted. He opened and shut his mouth as his stomach rose and fell.
Click here to read more Blade editorials.
What's done cannot be undone, but Gov. John Kasich should now pause Ohio's killing machine until the state has time to select a drug or multidrug cocktail that it can be reasonably sure is reliable, efficient, humane, and tested. A lack of national standards on how executions should proceed makes such a delay even more urgent.
To be sure, Dennis McGuire, a convicted murderer and rapist, is not a man who will elicit public sympathy. In truth, many Ohioans will say he did not suffer enough.
Under Ohio's laws, McGuire's death sentence was just and justifiable. But McGuire was sentenced to death, not death preceded by torture.
As carried out by the Department of Rehabilitation and Correction, his sentence desecrated the laws of Ohio and violated the most fundamental standards of a civilized society.
A nationwide shortage of lethal drugs has forced states, including Ohio, to find other ways to execute prisoners in a constitutional manner that avoids cruel and unusual punishment. But as they scramble to find drugs that are convenient and available, even if not adequately tested, expediency has trumped morality. The process has become almost haphazard — and increasingly open to legal and constitutional challenge.
After Ohio ran out of pentobarbital in September, The Blade editorial page, and others, urged Mr. Kasich not to rush into an imprudent and possibly inhumane procedure. The governor ignored those pleas, unmindful or indifferent to the dangers posed by an untested lethal cocktail.
As a result, Ohio became the first state in the nation to try a two-drug cocktail: midazolam and hydromorphone. The gruesome spectacle on Thursday will forever stain Mr. Kasich's record and legacy.
In 2011, Ohio became the first state to use pentobarbital alone for a lethal injection. The drug's maker, Denmark-based Lundbeck, opposes its use in death penalty cases and has stopped selling the product to corrections departments.
Other manufacturers also are refusing on moral grounds to assist corrections departments with drugs used for lethal injections. That has forced states to buy custom-made drugs from compounding, or specialty, pharmacies, that the U.S. Food and Drug Administration does not regulate.
Ohio started using capital punishment — public hangings — when it became a state in 1803. In 1897, the electric chair replaced the gallows. In 2001, lethal injection became Ohio's sole method of administering the death penalty.
States that impose capital punishment generally have regarded lethal injection as more humane than the electric chair, gas chamber, or firing squad. But some doctors now question that view, especially given executioners' lack of medical training and the secrecy surrounding capital case medical records.
On Friday, the Department of Rehabilitation and Correction would say only that it would conduct a routine "after action" review of Thursday's execution. That's not enough. Governor Kasich must delay executions until the state can properly carry them out.
To his credit, he has delayed the execution of Ronald Phillips, 40, to study whether Ohio can accommodate Phillips' request to donate his organs. Mr. Kasich certainly can delay an execution to avoid another horrific incident.
This page has a long-standing history of support for capital punishment, but that's not what this debate is about. McGuire's execution was inhumane, inept, and inexcusable.
It cannot happen again.
Guidelines: Please keep your comments smart and civil. Don't attack other readers personally, and keep your language decent. Comments that violate these standards, or our privacy statement or visitor's agreement, are subject to being removed and commenters are subject to being banned. To post comments, you must be a registered user on toledoblade.com. To find out more, please visit the FAQ.