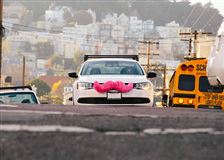 Cars of Lyft, a ride-sharing company that has come to Toledo, sport a pink mustache, the company's trademark.
PHOTO COURTESY OF LYFT Enlarge
Toledo has joined the ranks of major U.S. metropolitan areas with a ride-sharing service that uses the Internet to match drivers and passengers. Local service launched by Lyft was part of a "24 cities in 24 hours" rollout by the California-based company, which started in 2012.
Other ride-share companies, including Uber and Sidecar, provide similar services in more than 100 U.S. cities. They enable consumers to hail a ride with the tap of a screen and to pay by smart phone.
On-demand mobile options to waving and running down the street are shaking up the century-old cab service industry, which has changed little in recent decades. Some cabs still do not even accept credit cards.
Click here to read more Blade editorials.
Digital ride-sharing will require the City of Toledo, as well as the Ohio General Assembly, to consider regulations to ensure public safety. Those rules should be based on safeguarding the public, not protecting the economic interests of cab and limousine companies.
Cabs and ride-sharing companies provide similar services, but in far different ways. In many cases, especially with safety-related standards, it probably makes sense to impose the same regulations on ride-shares, even though their drivers are typically part-time. In other areas, such as insurance, it may not.
Lyft drivers use their own vehicles, adorned in front with furry pink mustaches. Prospective passengers must download the company's smart-phone application and provide credit card information.
They get a suggested cost for the ride based on local rates. With a $1 pickup fee and $4 minimum, Lyft's suggested fee structure in Toledo is $1.50 per mile and 30 cents per minute. The payment, a so-called donation, is not required, but most passengers provide at least the minimum amount suggested.
Consumer choice is especially important in the Toledo region, which ranks among the worst U.S. metropolitan areas for having jobs in neighborhoods that are not served by public transit. Nearly 14 percent of Toledo households don't have vehicles.
The growth of ride-share companies nationwide shows their appeal. Not surprisingly, cab companies allege these startups use amateur drivers, avoid professional licenses and fees, don't carry adequate insurance, violate city codes related to livery services, and pose a serious threat to public safety.
Lyft has been sued by the cities of Columbus, Houston, Chicago, and San Antonio. The California Department of Insurance has ruled that ride-sharing companies, sometimes called transportation network companies, must ensure that insurance is provided.
The Seattle City Council has capped the number of ride-share drivers. A few cities have banned the services. The City of Toledo has not acted against Lyft — at least not yet.
Cab companies, here and elsewhere, need competition. Still, they make some valid points that lawmakers, municipalities, and airports must address through regulations, including requirements for adequate insurance.
In a California case last year, a ride-sharing company failed to pay an insurance claim stemming from a passenger injury, arguing that the accident was the driver's responsibility. But the driver's insurance company said it would not cover the accident because his personal policy didn't permit commercial driving.
In a changing marketplace, government will have to sort these matters out, along with safety, training, and licensing issues. Properly regulated, Lyft and other ride-sharing companies should give the Toledo area healthy competition and fresh options in an industry that has been locked for too long in cruise control.
Guidelines: Please keep your comments smart and civil. Don't attack other readers personally, and keep your language decent. Comments that violate these standards, or our privacy statement or visitor's agreement, are subject to being removed and commenters are subject to being banned. To post comments, you must be a registered user on toledoblade.com. To find out more, please visit the FAQ.