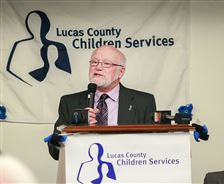 Sparks
THE BLADE
Enlarge | Buy This Image
Last March, Dean Sparks retired as executive director of Lucas County Children Services. He cashed in more than $77,000 in unused sick and vacation time. He unretired the next day, returning to an annual salary of nearly $124,000.
Mr. Sparks is not the only public official in Ohio who double-dips: State law permits some public employees to retire with a full pension, collect other compensation, then go right back to work — something private-sector employees couldn't imagine doing. But "everybody does it" isn't enough justification for his lining his pockets, especially now.
Click here to read more Blade editorials.
Mr. Sparks' agency wants county voters to approve a tax increase in November that it says it must have to stay out of debt and continue to provide an adequate level of vital services to vulnerable children. Winning such a tax hike would be tough under any conditions.
Mr. Sparks' pay package makes that task nearly impossible. Unless he repudiates his double-dipping, he should step down now. If he refuses, the Children Services board should show him the door. And if none of this happens, The Blade cannot support the agency's levy, however essential its work.
Mr. Sparks, who has run Children Services for 17 years, notes that his new annual salary is about $10,000 less than it was before he retired. But now that he is eligible for an annual pension of about $70,000, he will bring home nearly $200,000 a year in public money.
In the private sector, vacation time generally accrues on a "use it or lose it" basis. Most workers don't get six weeks of vacation a year, as Mr. Sparks now does. Workers aren't paid extra for showing up when they're not sick. And they don't get to collect a pension for the job they're still doing. The same conditions should apply to public employees.
Children Services seeks a seven-year, 1.75-mill property tax — 20 percent of which is an increase — on the Nov. 4 ballot. We acknowledge the good work the agency does for many of Lucas County's most at-risk children and the cost-cutting it has pursued in recent years.
But at a time when county voters remain economically challenged, the pay issue is not merely symbolic. It speaks to Children Services' priorities.
Mr. Sparks, 61, told The Blade he won't quit if the levy fails, insisting on his commitment to "the families and children of Lucas County." But his continued presence could weaken the agency's ability to deliver services. Agency board members defend his contract, which runs through August, 2015; the board evidently needs more independent-minded members.
Mr. Sparks would best display his dedication to the children he serves through a display of personal sacrifice. That includes giving up unused sick and vacation days and accepting a salary that takes his pension into greater account.
Mr. Sparks notes that "I have not done anything different than what other public employees who are in the public retirement system in Ohio have done in the past ... I am not embarrassed." Certainly the state law that provides such excessive perquisites to public employees must be revisited, but that won't happen soon.
As we have said many times, double-dipping needs to end in Ohio. That will require collective and individual action.
In the meantime, Mr. Sparks' salary controversy overshadows the legitimate needs of his agency. He can end it, or he can show voters what he and his board think is most important.
Guidelines: Please keep your comments smart and civil. Don't attack other readers personally, and keep your language decent. Comments that violate these standards, or our privacy statement or visitor's agreement, are subject to being removed and commenters are subject to being banned. To post comments, you must be a registered user on toledoblade.com. To find out more, please visit the FAQ.