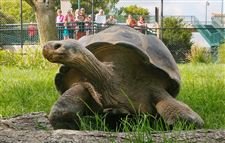 Emerson, a Galapagos tortoise, explores his temporary quarters at The Toledo Zoo.
THE BLADE
Enlarge | Buy This Image
With the addition of Emerson, a Galapagos tortoise that is estimated to be 100 years old, the Toledo Zoo continues its rich tradition of showing visitors exotic creatures from around the globe.
The zoo's executive director, Jeff Sailer, and his staff deserve hearty congratulations for their efforts to return the endangered species to Toledo. Emerson will delight Toledoans who remember Galopy, a Galapagos tortoise that resided at the zoo from the early 1950s until 1983 — one of the most beloved animals in its history.
Click here to read more Blade editorials.
Emerson's arrival from the San Diego Zoo helps erase some long-standing bitter feelings about Galopy's departure. A former Toledo Zoo director, in a defiant and condescending manner, shipped Galopy to San Diego, allegedly in the name of conservation.
Mr. Sailer set out to bring a tortoise back to Toledo, and he did. Such perseverance demonstrates his eminent standing among peers in the zoo world.
Later this year, the zoo will receive three 2-year-old Galapagos tortoises from a Texas zoo. With those additions, and in anticipation of their breeding, Mr. Sailer is creating a heartwarming exhibit that could endure for generations.
Galapagos tortoises are one of the foremost examples of the impact of human activity on the natural world, and a prominent symbol of the need for conservation. Emerson's acquisition will enable the zoo to enhance its vital emphasis on conservation issues.
When Emerson made his public debut this week, he went over to a crowd gathered on the zoo's pedestrian bridge to offer silent greetings. He permitted zoo staff to rub his neck, stretched himself up almost on tiptoe, and took a slow stroll around his new pen. It's already evident that Emerson will serve as a gentlemanly ambassador to the throngs of visitors who will want to meet him.
Emerson's arrival will bring more visitors through already-bustling zoo turnstiles. The tortoise is the zoo's newest franchise, strengthening the quality of an already enviable exhibit of animals. With Emerson, the zoo can continue to build on its reputation of excellence and blockbuster acquisitions.
Mr. Sailer has shown his ability to mobilize zoo resources to acquire animals that need special care and housing. If securing a panda is the ultimate coup for most top-tier zoos, a Galapagos tortoise is the next-best thing.
The Toledo Zoo is a jewel for Lucas County residents, and others who visit from the area, state, Midwest, and nation. Toledoans can all be proud of the educational, economic, and clean-energy progress the zoo has made since its start in 1900 with the donation of a groundhog.
But the diversity of its animals is what continues to draw people to the zoo. Let's welcome Emerson to the family, and to one of Toledo's greatest assets.
Guidelines: Please keep your comments smart and civil. Don't attack other readers personally, and keep your language decent. Comments that violate these standards, or our privacy statement or visitor's agreement, are subject to being removed and commenters are subject to being banned. To post comments, you must be a registered user on toledoblade.com. To find out more, please visit the FAQ.