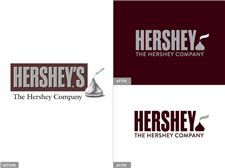 This image provided by The Hershey Company shows the company's old, left, and new, right, corporate logos.
ASSOCIATED PRESS Enlarge
HERSHEY, Pa. — The Hershey Company is rolling out a new corporate logo that features a freshly stylized version of one of its most famous chocolate products.
The candy maker on Friday announced the new design, which adds a new version of the Kisses chocolate at the end of the company's name.
It's part of what the company calls a "disciplined identity system" designed to provide more consistency.
Ron Burrage, the company's senior global design director, says the goal is to help people "clearly identify, this is from The Hershey Company."
For its products, the only change will be on the back of packaging where the company's name is printed.
Based in central Pennsylvania, The Hershey Company has about 13,000 employees and generates more than $7 billion in annual sales.
Guidelines: Please keep your comments smart and civil. Don't attack other readers personally, and keep your language decent. Comments that violate these standards, or our privacy statement or visitor's agreement, are subject to being removed and commenters are subject to being banned. To post comments, you must be a registered user on toledoblade.com. To find out more, please visit the FAQ.