Manhattan's Pub 'N Cheer owner Zach Lahey never made it any specific goal to bring French cuisine to Toledo, which has virtually none, and no truly dedicated French restaurant. But by simply trying to offer unique choices during his UpTown restaurant's rebrand in 2014, two French gems serendipitously ended up on the menu together.

VIDEO: Plates & People heads to Manhattan's Pub 'N Cheer

And it seems like that is exactly how they are supposed to be enjoyed: together.
The Niçoise Salad at Manhattan's is seared ahi tuna, sugar snap peas, roasted beets, Kalamata olives, tomatoes, fried capers with balsamic vinaigrette. The dish originates from the South of France in a riviera city called Nice. It's people, the Niçoise, are seafood loving, warm, and laid back. Their summery salad reflects all of that.
The Poutine, an originally French Canadian dish hailing from Quebec, is hand-cut bistro fries smothered in gravy, shaved beef, goat cheese curds, and a special Toledo touch of two homemade pierogis. The Québécois are of course a hardy, happy brood who endure an average temperature throughout the year of about 19º F. They need insulation as much as they need sustenance, and their sturdy plate of potatoes and cheese and gravy reflect all of that.
But what about those pierogis? Perhaps this is a nod to the Franco-Polish alliance of 1921? Nah, it's because largely Polish Toledo just loves them.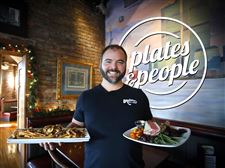 Zach Lahey with his Salade Niçoise and Poutine at Manhattan's Pub 'N Cheer on Adams St. in UpTown Toledo.
The Blade/Andy Morrison
Enlarge | Buy This Image
"We actually just started doing it," Lahey said. "Chef makes almost everything here, and we try to use only the best ingredients from here when we can. The cheesy mashed potato pierogis we thought were just a great touch."\
Check out the previous edition of Plates & People
The Poutine and Niçoise Salad are each excellent on their own, but together the leafy greens and tuna complement exquisitely the salty, goopy crunch of the gravy doused fries na pierogis.
It's the best of summer and the best of winter in one great meal.
For more episodes of Plates & People, download Blade NewsSlide at the Apple app store or Google Play.
Guidelines: Please keep your comments smart and civil. Don't attack other readers personally, and keep your language decent. Comments that violate these standards, or our privacy statement or visitor's agreement, are subject to being removed and commenters are subject to being banned. To post comments, you must be a registered user on toledoblade.com. To find out more, please visit the FAQ.