The senior defensive end helped guide the Eagles to the best season in school history. Eastwood (14-1) won a Division V regional title and reached the state championship game for the first time.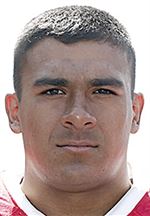 Salinas
THE BLADE
Enlarge | Buy This Image
Salinas had a team-high six solo tackles in the state final, which No. 1-ranked Eastwood lost 21-14 in overtime to No. 3-ranked Wheelersburg (15-0) in heartbreaking fashion. Salinas also had three sacks for minus-24 yards, a forced fumble, and recorded six tackles for loss. He helped Eastwood force Wheelersburg, which averaged 41.6 points and 414 yards per game, to punt eight times. The Pirates finished with just 207 total yards.
Salinas, who has lined up at defensive end for almost every snap the past two years, earned All-Ohio first-team honors. He finished his senior season with 101 total tackles, 29 tackles for loss, 14 sacks, three caused fumbles, and one recovered fumble. He was named the Division V Northwest District lineman of the year.
"Antonio is remarkably fast for a defensive lineman, but he matches that with an intense desire to get to the football," coach Craig Rutherford said.
The 6-foot-1, 205-pound lineman finished with 188 tackles (56 for loss) and 29 sacks in his career. He earned All-Northern Buckeye Conference first-team honors as a junior and senior.
"He is obviously really athletic, but over the last two seasons he's learned exactly what we needed out of the ends in our defense," Rutherford said. "Antonio became a really disciplined player who was willing to take on blocks if that meant someone else would be in a great position to make a play."
Rutherford said many times it felt as if Salinas could shut down an entire side of the line.
"It was really difficult for teams to run the ball to his side. Antonio wanted us to have a great defense, and he did everything he could to make that happen," Rutherford said.
Guidelines: Please keep your comments smart and civil. Don't attack other readers personally, and keep your language decent. Comments that violate these standards, or our privacy statement or visitor's agreement, are subject to being removed and commenters are subject to being banned. To post comments, you must be a registered user on toledoblade.com. To find out more, please visit the FAQ.