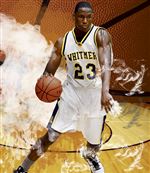 Nigel Hayes
THE BLADE/JEREMY WADSWORTH
Enlarge | Buy This Image
Nigel Hayes
■ School: Whitmer
■ Class: Senior
■ Height: 6-7
■ Position: Forward
■ Key stats: A three-time All-Blade selection, he led the Panthers to an 18-6 record (12-2 Three Rivers Athletic Conference) and No. 10 state ranking in Division I while averaging 15.4 points, 8.7 rebounds, 4.3 assists, 2.2 blocked shots, and 2.2 steals per game. He shot 54 percent on 2-pointers, 29 percent from 3-point range, and 72 percent at the line. For his four-year varsity career, Hayes totaled 1,333 points, 766 rebounds, 294 assists, and 163 blocked shots. His single-game best of 38 points came against Scott in his freshman year, and as a junior Hayes led Whitmer to a 24-3 record, a No. 5 state ranking, and advancement to the Division I state championship game. He was named All-Ohio second team in 2011 and 2012. He has signed to play in college at Wisconsin.
■ Coach says: "Nigel has worked very hard to become the player that he is. Because of his size [6-7, 240 pounds], it made sense to play him near the basket at the high school level. But his skill set suggests his best position in the future will be as a point guard. He sees the floor exceptionally well, handles the ball well, and is unselfish to a fault. What really defines his game is his ability to make the teammates around him better. He was very instrumental in our team winning 77 games over the span of his career." — Bruce Smith
Guidelines: Please keep your comments smart and civil. Don't attack other readers personally, and keep your language decent. Comments that violate these standards, or our privacy statement or visitor's agreement, are subject to being removed and commenters are subject to being banned. To post comments, you must be a registered user on toledoblade.com. To find out more, please visit the FAQ.